Fox4 experiments with new point/counterpoint feature on 9 p.m. newscasts
07/22/10 02:23 PM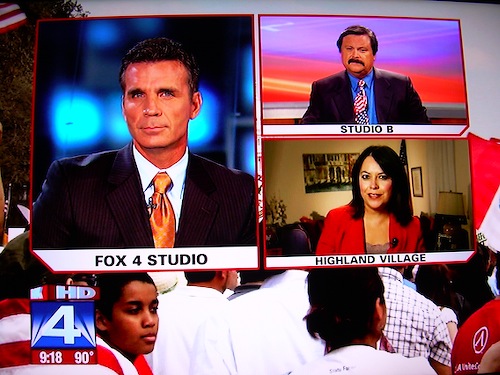 Fox4 anchor Steve Eagar moderated an illegal immigration debate on Wednesday's 9 p.m. newscast between Dallas lawyer Domingo Garcia and Adryana Boyne, national director of Voces Action. Photo: Ed Bark
By ED BARK
Fox4's 9 p.m. newscast, aiming to be more interactive both on line and on the air, inaugurated a new debate segment during the first half-hour of Wednesday's edition.
Sources say it's corporate-mandated for all Fox-owned stations, and is supposed to be a nightly feature. Fox4 news director Maria Barrs has not responded to a question on whether it will or won't be.
The opening topic was the well-trod issue of immigration reform, with Dallas attorney Domingo Garcia adding to his long history of camera time while Voce Action national director Adryana Boyne provided a comparatively new face. Refereeing was co-anchor Steve Eagar while colleague Heather Hays again deferred to him. Previous anchor desk interviews with various analysts also have fallen to Eagar on a very regular basis. Maybe they'll alternate in due time. The "Man of the House" approach, whether fully intended or not, is ultra-antiquated at best.
Garcia and Boyne kept the debate civil, disagreeing most sharply on an "E-verify" system that would allow businesses to determine whether employees or would-be employees are eligible to work legally in the United States. Boyne is all for it and Garcia says it would be a "Big Brother" intrusion.
Eagar solicited comments to both the nightly "Viewers' Voice" segment and via facebook on Fox4's official page. Four Viewers' Voice comments, all reasonably stated, made the cut Wednesday night. And on facebook there are 99 comments as of this writing. Not bad.
Incorporating mini-debates into Fox4's 9 p.m. newscasts seems like basically a good idea, although the overall idea likely is to stimulate more of an animated
Crossfire
approach than the genteel discourse on display Wednesday night. We'll see where and how it goes. And also whether there are enough worthy topics and willing combatants to make this a five-nights-a-week gambit.