Dramatic overhaul for CW33 newscasts, with no one's job guaranteed (updated)
09/04/12 02:26 PM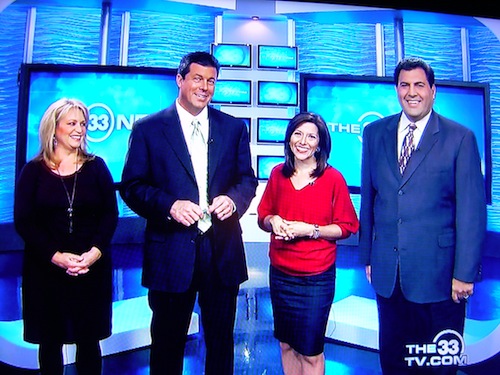 In happier times: Former CW33 9 p.m. news team of Rebecca Miller, Walt Maciborski, Amanda Salinas and Dave Crome. Photo: Ed Bark
By ED BARK
@unclebarkycom
Details are coming out from the sobering, mandatory high noon meeting Tuesday among Tribune-owned CW33 management
and their staffers.
Basically put, no one's job appears to be safe in terms of continued employment on the station's 5 and 9 p.m. local newscasts. They're going to be remade in the image of the
early morning Eye Opener program
.
"I think it's going to be very similar to
Eye Opener
from top to bottom, and every space in between," said a CW33 staffer who requested anonymity. "The current newscasts will remain in place until the new hires and format are finalized . . . All members of the staff have the opportunity to reapply for the newly created positions. They're basically re-starting from the ground up."
Eye Opener
, which airs from 5 to 8 a.m. on CW33, originates entirely from the station's Dallas studios and is syndicated to several other Tribune-owned stations. Its approach is decidedly comedic. And its senior producer until last month, Larissa Hall, was named CW33's
new Director of Content on Aug. 16th
.
The drastically revamped CW33 newscasts will include "more multi-media journalists," says a source. A previous term for them was cheap-to-hire "backpack journalists." The new terminology is "preditor," , which one CW33 staffer described as a "do it all, shoot, write and edit field reporter who will tell stories in a much different manner." Whatever the title, they seem to be the wave of the not-so-distant future at many local TV news operations, both large and small.
Conventional photographers and editors will still be used in some fashion, another CW33 source said. Staffers were told they will be informed in September whether they have a position with the new-look newcasts, which tentatively are scheduled to launch on Nov. 1st.
Interviews for the new positions began at mid-afternoon Tuesday and are expected to be completed by Thursday, according to a letter distributed to all CW33 employes and obtained by unclebarky.com. Conducting the interviews are Hall and another member of management, Tribune Corp. vice president of news Steve Charlier.
"If you are interviewing for any of the Host positions, you will be interviewing with both Steve and Larissa," the suddenly disenfranchised staffers were told. "If you want to interview for Preditor, Associate Preditor, Show Producer, Web Designer, Operational Assignments Coordinator, or Show Director/Production Technician, please sign up to interview with Larissa. If you are interviewing for Live-Story Teller, Art Designer, or Executive Producer/Special Projects Preditor, please sign up to interview with Steve."
An overall staff reduction of 25 to 30 percent is anticipated, according to sources. One of the posted available positions is "Host/Comedic Writer."
CW33's showcase one-hour 9 p.m. local newscast has had severe ratings problems in recent years. A turbulent four-year reign of former WFAA8 news director David Duitch (now editor of dallasnews.com) was marked by numerous staff firings and hirings, an emphasis on "social media" content and the deployment of a full-time "sexpert" who since has left the station.
But none of this really worked, with CW33 management acknowledging as much during Tuesday's tense meeting. A staffer said the "quote of the day" was "We brought in a proven winner, David Duitch, to deliver higher numbers and more revenue. And he failed."
Of the above-pictured team, sports anchor Dave Crome departed CW33 in April 2011 and news anchor Walt Maciborski
recently resigned
to take an anchoring job at the Fox affiliate station in Indianapolis.
Crome's successor as sports anchor, Chase Williams, also recently jumped ship. As did
longtime CW33 meteorologist Bob Goosmann
, who will be working in real estate. Goosmann had been the station's principal weathercaster until former NBC5 early morning meteorologist
Rebecca Miller was hired
in January 2009. Miller and co-news anchor Amanda Salinas are still at CW33.
The station launched its 9 p.m. local newscast in 1998 under news director Anthony Maisel, who built the program from the ground up. KDAF-TV (Channel 33) was an affiliate of the now defunct WB network in those days.
Maisel resigned in Sept. 2007
after the station was re-christened CW33. He declined to comment Tuesday on the changes in progress at his old station.
Maisel's successor as news director, Mark Shepherd, was quickly supplanted by Duitch in the summer of 2008. One of his first management moves was to fire both of the anchors hired by Maisel, Tom Crespo and Terri Chappell. The replacements were Maciborski and Salinas.
Crespo now is news director and anchor at KTEN-TV in Sherman-Denison, where his boss is Maisel, the station's general manager. Chappell is now a weekday morning anchor at KKCO-TV, the NBC station in Grand Junction, Colorado.
CW33's 9 p.m. newscasts averaged 13,548 total viewers in the most recent major ratings period, the May "sweeps." In contrast, Fox4's competing one-hour newscasts averaged 176,127 viewers.
Eye Opener
had roughly the same viewership as CW33's 9 p.m. news during the May sweeps.
Two Mays earlier, in the 2010 sweeps, CW33's 9 p.m. edition had more than twice as many viewers -- 33,932 -- while Fox4 averaged 142,512 for its competing edition.