Henderson back at Good Day after weekend jaunt with Fox & Friends
04/07/08 05:49 AM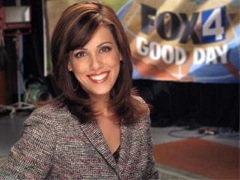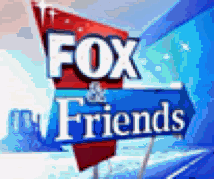 By ED BARK
Megan Henderson didn't miss a beat Monday, returning to Fox4's
Good Day
after a weekend in New York co-hosting Fox News Channel's
Fox & Friends
.
It reportedly was an "audition," although she characterized it as more of a fling in an email sent to unclebarky.com Saturday evening.
"I've read the trades, too," Henderson said. "However, I have not been told anything about an 'audition.' At some of the other network morning shows, they'll bring folks from their affiliates in every once in awhile, just for fun. I think this is a similar deal. I appreciate the opportunity."
In a subsequent email, Henderson said she is not in contract negotiations and that her pact with Fox4 "isn't up until February 2009." It's never too early to begin talks when you're part of a very profitable, No. 1-rated early morning show. But an earlier post that said Henderson is "in contract negotiations" has been corrected.
Henderson worked the 6 to 9 a.m. shift on both Saturday and Sunday at
Fox & Friends
. She sat between resident males Clayton Morris and Greg Kelly on Saturday, with substitute Eric Shawn filling in for the latter on Sunday's show. All fall well short of
Good Day
's Tim Ryan, with whom Henderson has worked since August 2003. They made no mention of her weekend excursion during the first two hours of Monday's show.
Henderson repeatedly said she was "just visiting"
Fox & Friends
, which would be a wise strategy on her part. Morris, Kelly et. al. are semi-tolerable at best. But cleavage-flashing news anchor Courtney Friel can't even be characterized as a bimbo because that would be an upgrade.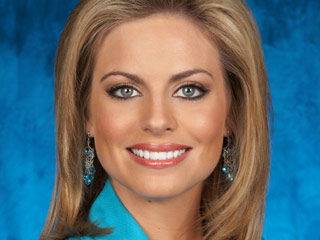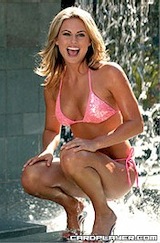 Journalism 101: anchor Courtney Friel in and out of uniform.
During one of Saturday's periodic news breaks, the former
World Poker Tour
host termed herself a "total ghetto princess" after breaking a few moves. On Sunday Friel fittingly went to the circus, where she gleefully wore a low-cut sequined circus outfit while feeding an elephant an apple through his trunk. This was accompanied by a series of orgasmic-esque hee hee hee's that can't be fully captured in print.
Friel closed out her last live segment from the circus by taking a shaving cream pie in the face. Warning to Henderson: any further close proximity to Friel can result in permanent brain impairment, let alone debasement.
Henderson did get a chance to interview environmentalist Robert F. Kennedy Jr. from Hawaii via satellite. More often, though, she teased upcoming segments or fought to get a word in opposite the show's gabby males.
On both days,
Fox & Friends
added an item to an ongoing "sweeptstakes" that includes a trip to New York, a Broadway show and as of Sunday, Mighty Putty.
"What is Mighty Putty?" Henderson asked before Shawn added, "This stuff works."
No, it doesn't, at least in the estimation of Fox4 consumer reporter and close Henderson friend Steve Noviello. He deemed
Mighty Putty a rip-off
during a heavily publicized
Deal Or Dud
segment shown on a 9 p.m. newscast during the February "sweeps."
If Henderson's smart she'll sign a new deal with Fox4. Sooner rather than later.