Veteran traffic reporter Tammy Dombeck in likely waning days at NBC5
06/25/12 02:24 PM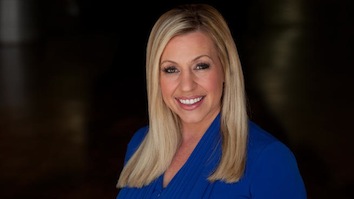 By ED BARK
@unclebarkycom
More intrigue is brewing on D-FW's early morning news front, with veteran NBC5 traffic reporter Tammy Dombeck preparing to exit the station.
Several sources close to the situation confirm that Dombeck could be leaving as early as this week after more than 12 years as the Fort Worth-based station's featured "Gridlock Buster." She joined NBC5 in January 2000.
But wait, there's more. The University of North Texas grad is in talks with a rival D-FW station, with the most likely candidate appearing to be ratings-impaired CBS11. Asked about the Dombeck situation Monday, CBS11 communications director Lori Conrad said, "Thanks for checking. I decline to comment."
CBS11 debuted its new wake-up anchor team, of Brendan Higgins and Adrienne Bankert, on Monday, June 25th. The station yearns to escape from an early morning ratings chasm in which millions of dollars in potential revenues have been left on the table while Fox4, NBC5 and WFAA8 continue to fight a tight ratings battle for the No. 1 spots in total viewers and 25-to-54-year-olds, the key demographic for news programming. Teresa Frosini is CBS11's current traffic reporter.
Higgins also used to work at NBC5, where he co-anchored weekday early morning newscasts for six years before leaving in January 2010 over a contract disagreement.
Dombeck's immediate availability would be in question, due to standard "non-compete" contracts at most stations. When longtime meteorologist Rebecca Miller was dropped by NBC5 in March of 2008, she spent an enforced six months off the air before being allowed to join rival CW33. Initially hired part-time, she has been the Tribune-owned station's chief 9 p.m. weekday weathercaster since January of 2009.
WFAA8 traffic reporter Alexa Conomos, currently co-anchoring the early morning news while Cynthia Izaguirre is on maternity leave, will herself go on maternity leave next month. Sources at the station say the plan is to continue with Colleen Coyle as a substitute traffic reporter, pending Conomos' anticipated return sometime in the early fall. If Conomos decided
not
to return, there perhaps could be an opening for Dombeck at WFAA8. But that seems like a longer shot, and sources at WFAA8 say she definitely intends to rejoin
Daybreak
. WFAA8's vice president/ of product development, Dave Muscari, said Monday that he has "no comment" on any of these developments.
Most signs currently point to CBS11 as Dombeck's possible future home. The station already
has a track record
of picking up anchors and reporters who first made their names at competing D-FW stations. We'll see what unfolds.
AND IN OTHER NEWS
As previously reported
, veteran WFAA8 anchor Gloria Campos will be leaving 6 p.m. newscasts in September while continuing to co-anchor the station's 10 p.m. weekday editions with John McCaa. She'll be taking a significant pay cut in the process, as did sports anchor Dale Hansen when he
signed a new deal
in January of this year.
Now her replacement is official. And to no one's surprise, it's Shelly Slater. News director Carolyn Mungo made the announcement to her staff earlier this month, sources confirm. Slater also will continue to co-anchor WFAA8's 5 p.m. newscasts.
Mungo has not returned an email asking for comment or confirmation. Her boss, WFAA8 president and general manager Mike Devlin, still has a standing "no comment" in response to all inquiries from unclebarky.com.
Campos, who joined WFAA8 in 1984, currently is the longest standing woman co-anchor of 6 p.m. newscasts in D-FW.