New wheels for former CW33 sports anchor-reporter Dave Crome
05/09/11 05:54 PM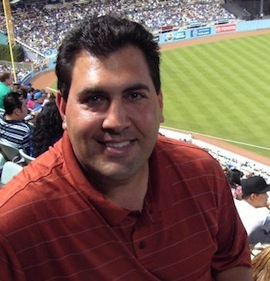 Dave Crome in latest Facebook photoBy ED BARK
Dave Crome has quickly re-started his engine.
The former longtime CW33 sports anchor-reporter, dropped by the Dallas-based station last month, says on his Facebook page that he'll be wheeling over to the
Texas Motor Speedway
on Monday of next week to "start my new position in the media relations department."
His Facebook well-wishers quickly piled up, with former CW33 on-air colleagues Rebecca Miller, Bob Goosmann, Dawn Tongish, Tom Crespo and Walt Maciborski among those offering congratulations.
Maciborski, currently CW33's primary news anchor along with Amanda Salinas, enthused, "AWESOME, AWESOME, AWESOME. We are celebrating the news. That is the power of prayer my brotha."
Crome worked at CW33 from 1998 until late April of this year. He was the Tribune-owned station's last full- or part-time sports anchor-reporter.