And babies make four
10/13/08 09:47 AM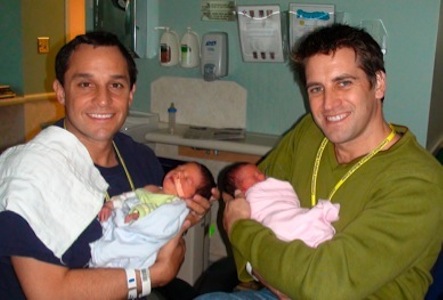 CBS11 investigative reporter Bennett Cunningham and partner Michael Spann with their newborns, Gregory Adam and Liliana Elizabeth. Both were born early on the morning of Oct. 10th.
BY ED BARK
Friday brought new lives to both CBS11 investigative reporter
Bennett Cunningham
and partner Michael Spann. Shown above in a newly posted picture on their
web site
, they're happy together with newborns Gregory Adam Cunningham (5 lbs., 14 oz.) and Liliana Elizabeth Cunningham (4 lbs., 6 oz.)
Both babies were born in Connecticut early Friday morning via gestational surgery. Cunningham and Spann say that both newborns are in a neo-natal intensive care unit after a 34-week gestation period in a surrogate mother's womb.
"Both are very healthy, but have a few typical issues associated with pre-term babies," they say in a posted update. "Nothing of any concern but the doctors tell us the babies will have to say in the 'NICU' for the next 10 to 20 days. We are very fortunate that they are free from any breathing problems and other more serious medical issues usually associated with 34-week old babies."
Cunningham and Spann say they expect to remain in Connecticut until Halloween or later, depending on the babies' progress.