Local Nielsen ratings snapshot (Fri.-Sun., July 27-29)
07/30/07 01:05 PM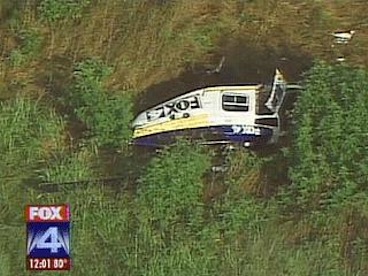 By ED BARK
We'll have some ratings notes shortly, but first this. Thankfully, everyone's OK after engine failure forced the crew of Fox4's Chopper 4 to make an
emergency landing
Monday morning in Grand Prairie.
Pilot Curtis Crump, Fox4 reporter Chip Waggoner and KRLD traffic reporter Julie DeHarty all escaped serious injury, the station reports.
The crash occurred shortly after the weekend Nielsen ratings printouts reinforced the summertime pulling power of Fox4's 9 p..m. local newscasts. Sunday's edition tied CBS'
60 Minutes
as D-FW's most-watched program of the entire day, with each averaging 168,980 homes. The measurement includes all audience groups, from teens to elders.
The 9 p.m. newscast also topped all prime-time shows (6 to 10 p.m.) among advertiser-courted 18-to-49-year-olds and 25-to-54-year-olds.
Sunday likewise brought good news for NBC5's 10 p.m. newscast. It exceeded Fox4's prime-time performance in both the 18-49 and 25-54 demo to rank as the day's most-watched program in those key audience measurements.
Friday and Saturday brought more dismal performances for network entertainment programming. So let's get to Friday's local news derby, where Belo8 notched 10 p.m. wins in both total homes and with 25-to-54-year-olds, the main advertiser target audience for news programming.
Fox4 again dominated at 6 a.m. with twin wins. And the 7 to 9 a.m. portion of its
Good Day
also comfortably outpointed the three network morning shows.
Belo8 won at 5 p.m. in both ratings measurements, and also placed first in total homes at 6 p.m. NBC5 had the most 25-to-54-year-olds at 6 p.m.