Local Nielsen ratings snapshot (Fri.-Sun., Feb. 3-5) -- latest Supie falls short of previous Jerry's Palace edition
02/06/12 11:31 AM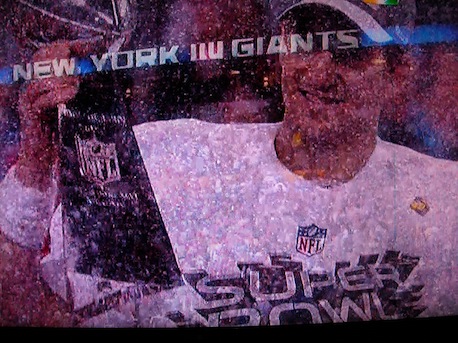 A super-imposed look at Eli's Super Bowl celebration. Photo: Ed Bark
By ED BARK
Sunday's Super Bowl XLVI on NBC came close to averaging 2.5 million D-FW viewers while still falling well short of last February's ice capades-themed game at Jerry's Palace.
The Giants' 21-17 win over the Patriots, originating from Indianapolis and running from 5:30 to 8:53 p.m., drew 2,404,477 viewers with a peak crowd of 2,635,125 for its closing minutes. Supie XLV, in which the Packers whipped the Steelers, had 2,791,057 viewers locally with a high of 3,068,085.
Sunday night's most-watched competing attraction, CBS'
60 Minutes
, had 54,193 viewers.
From then on it was the usual diminishing returns. NBC's post-game show, stretching to 9:19 p.m., had 1,774,814 viewers for its 9 to 9:15 p.m. increment (Nielsen measures in quarter-hours). The Season 2 premiere of
The Voice
then dove to 968,696 viewers, still a very respectable haul.
NBC5's one-hour "Super-Sized Edition" of its late night news, which got off to a 10:22 p.m. start, clocked in with roughly 359,027 viewers after sharing its first quarter-hour with
The Voice
. As noted in the Super Bowl overview on the Network News & Reviews page, co-anchor
Meredith Land scored a nice coup
by getting the wives of Jerry Jones, Nolan Ryan and Mark Cuban to sit down together for an interview.
Friday's prime-time Nielsens were paced as usual by CBS'
Blue Bloods
. The cop drama's new 9 p.m. episode pulled in 311,609 viewers while again falling off with advertiser-craved 18-to-49-year-olds to run third at that hour behind ABC's
20/20
and NBC's
Dateline
.
At 8 p.m. it was grim news for NBC's first-year series
Grimm
, which ran fourth in both ratings measurements.
In Friday's local news derby results, CBS11 won at 10 p.m. in total viewers but WFAA8 chalked up a first place finish among 25-to-54-year-olds, the main advertiser target audience for news programming.
Fox4 swept the 6 a.m. competitions while doing likewise at 6 p.m. NBC5 ran the table at 5 p.m.