Local Nielsen ratings snapshot (Mon., Aug. 4)
08/05/08 12:55 PM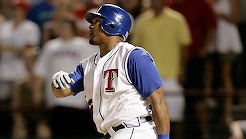 Marlon Byrd's walk-off grand slam scored big in the ratings, too.
By ED BARK
Imagine a time when the Texas Rangers almost were the biggest show in town.
It happened Monday between 10:30 and 10:45 p.m., when Marlon Byrd (depicted above on the
Texas Rangers Web site
), hit a bottom-of-the-ninth grand slam to lift the Rangers to a 9-5 victory over the New York Yankees.
Those 15 minutes on MY27 drew 214,333 D-FW homes to outpoint everything (during day or night) except the final 15 minutes of a
Two and a Half Men
repeat on CBS (228,946 homes between 8:15 and 8:30 p.m.). And the elongated game's overall ratings average of 6.2 Nielsen points (151,007 homes) beat all competing prime-time programming except
Two and a Half Men
and a following
Old Christine
rerun on CBS.
Those are socko numbers for the Rangers, who usually average well under 100,000 D-FW homes. And they came against two NBC reality competition shows with strong local rooting interests.
NBC's two-hour
American Gladiators
finale, in which Ally Davidson of Dallas emerged as the champion female contender, averaged a paltry 73,058 homes from 7 to 9 p.m. That made it the No. 4-ranked show during those two hours, with the same result among advertiser-craved 18-to-49-year-olds.
The Peacock's
Nashville Star
climax, with Arlington's Melissa Lawson singing her way to the top, fared better with a nice-sized 146,136 total homes from 9 to 10 p.m. Still, that put it just third in homes and fourth in the 18-to-49 demo.
ABC's
High School Musical: Get In the Picture
again was Monday night's lowest scorer among the four major broadcast networks, with just 36,534 lonely homes from 7 to 8 p.m.. It bombed even bigger with 18-to-49-year-olds, who preferred even the first hour of TXA21's local newscast to watching
HSM
host Nick Lachey flail about.
In the local news derby, CBS11's 10 p.m. edition edged NBC5 in total homes. But the Peacock counter-punched with a win among 25-to-54-year-olds, the main advertiser target audience for news programming.
WFAA8, which has been slumping in the early mornings, nipped Fox4 at 6 a.m. for first place in total homes. The two stations shared the gold in the 25-to-54 demo as WFAA8 veteran Brad Hawkins made his debut opposite incumbent
Daybreak
anchor Cynthia Izaguirre.
WFAA8 ran the table at 6 p.m. and won at 5 p.m. among 25-to-54-year-olds. Fox4 ran first at the earlier hour in total homes, winning by a smidgen over both WFAA8 and NBC5, which tied for second.