Local Nielsen ratings snapshot (Mon., March 4) -- last call for J.R. Ewing
03/05/13 11:19 AM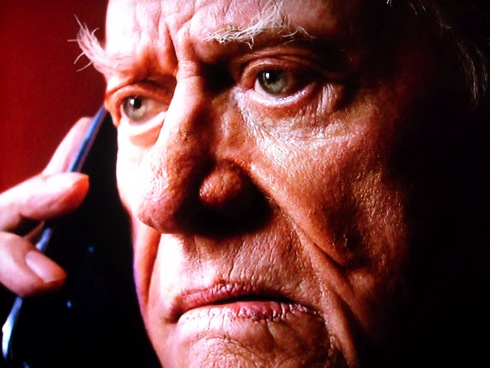 TNT's Dallas had a closing tight shot of J.R. Ewing before two shots rang out on the late Larry Hagman's last episode. Photo: Ed Bark
By ED BARK
@unclebarkycom
Larry Hagman's J.R. Ewing went out with a bang -- but not in the D-FW Nielsens -- on his final episode of
Dallas
Monday night.
He was on the phone from Abu Dhabi, consummating another devious scheme with his son John Ross -- when two shots rang out. So it'll be "Who Shot J.R.?" the sequel. Only this time the late Hagman's signature character won't survive. J.R.'s funeral is set for the March 11th episode of
Dallas
.
Monday's 8 p.m. hour of
Dallas
drew 172,105 viewers in D-FW, with 70,167 in the advertiser-prized 18-to-49 age range. That ranked it behind three competing programs.
Fox's
The Following
, renewed for a second season Monday, led the way with 261,600 total viewers while the second hour of NBC's
The Biggest Loser
had the most 18-to-49-year-olds (118,008).
ABC's second half of
The Bachelor
ranked second in both total viewers (220,029) and 18-to-49-year-olds (98,871). The bronzes in the 8 p.m. hour went to
Biggest Loser
in total viewers (206,526) and
The Following
with 18-to-49-year-olds (76,546).
Dallas
did, however, beat CBS' 8 to 9 p.m. repeats of
2 Broke Girls
and
Mike & Molly
in both ratings measurements.
Monday's 9 p.m. wins went to Fox4's local newscast, which had 192,758 total viewers and a very impressive 105,250 in the 18-to-49 demographic.
Over on KTXD-TV (Ch. 47),
D: The Broadcast
perked up some in the 9 a.m. hour with 8,261 total viewers and 4,146 in the 18-to-49 age range. The latter number, although small, was easily good enough to beat WFAA8's competing
Good Morning Texas
. It barely registered with 638 viewers in the 18-to-49 demographic. That's pretty astonishing.
At 10 a.m.,
D
Magazine's other new production, the retitled
D Living
, also supposedly had 4,146 viewers in the 18-to-49 range. But its total audience was just 4,131 viewers, says Nielsen. Both figures obviously can't be correct, so something's amiss.
Meanwhile, CW33's comedy-infused 9 p.m.
Nightcap
news went virtually unwatched Monday, with 3,442 total viewers and "hashmarks" (no measurable audience) in the 18-to-49 demographic. That's disastrous.
Fox4 had a big day in the four-way local news derbies, winning at 6 a.m. and at 5, 6 and 10 p.m. among 25-to-54-year-olds, the main advertiser target audience for news programming. The station added 6 a.m. and 5 p.m. wins in total viewers.
CBS11 had the most total viewers at 6 p.m. and WFAA8 ran first in that measurement at 10 p.m.
unclebarky@verizon.net