Newsroom additions, subtractions in progress at Fox4, CBS11
09/19/08 10:11 AM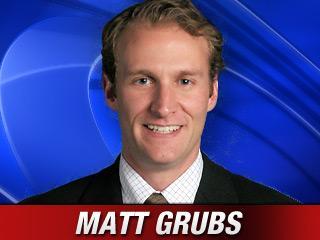 By ED BARK
Fox4 is adding reporter Matt Grubs to its full-time newsroom staff, which has been rocked by a wave of voluntary and involuntary departures in the past year.
Grubs has been the Santa Fe bureau correspondent for Albuquerque-based KOAT-TV since 2002, according to
its website
. He joined the ABC station from WOFL-TV in Orlando, FL, where his assignments included the protracted, chad-infested 2000 presidential election.
KOAT lately has been a free-flowing pipeline for D-FW stations. WFAA8's
Daybreak
co-anchor, Cynthia Izaguirre, came directly from that station. So did NBC5 nightbeat reporter Ellen Goldberg.
***
Hoping to at least slightly improve its overall yearly revenue picture, CBS11 is dropping its weekend morning newscasts for at least the rest of 2008.
Station sources say they'll vanish by the start of this year's "fourth quarter" (October-December) and be replaced by a combination of informercials, CBS kids' programming preempted during extended weather coverage and Babe Laufenberg sports specials tied to Dallas Cowboys games.
No job cuts are anticipated, but unfilled vacancies will be left that way. For the time being at least, competitors Fox4, NBC5 and WFAA8 still have weekend morning newscasts during what's been a dismal year for everyone's bottom line.
***
Pittsburgh Post-Gazette
TV critic Rob Owen has a fresh story on
new arrival Julie Bolgona
, who recently rejoined the city's WPXI-TV after a four-year stint as CBS11's weekday morning weathercaster.
She started anew at WPXI this week, and is happily posed in the station's "Severe Weather Center."