Local Nielsen ratings snapshot (Tues., Oct. 16) -- a big-drawing Round 2
10/17/12 10:53 AM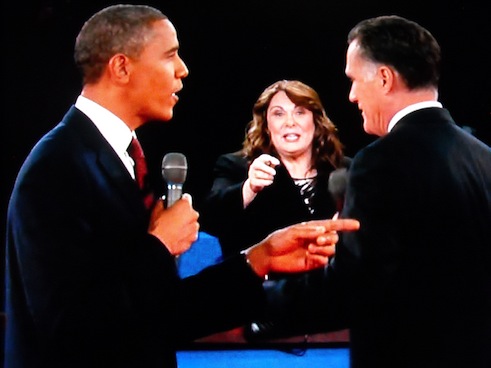 Debate referee, er, moderator Candy Crowley sometimes had her hands full separating combatants Barack Obama and Mitt Romney.
Photo: Ed Bark
By ED BARK
@unclebarkycom
Tuesday night's at times jaw-to-jaw second debate between President Obama and Mitt Romney easily out-pointed their first encounter in the D-FW Nielsens.
ABC had the biggest crowd among broadcast networks while Fox News Channel again paced the cable news network ratings. Here's the 10-network breakdown in total viewers:
ABC -- 323,557
NBC/Fox News Channel -- 227,179 each
Fox/Univision -- 213,410 each
CBS -- 192,758
MSNBC -- 89,495
CNN -- 75,726
PBS -- 41,305
CNBC -- 27,537
That's a grand total of 1,631,556 viewers, a significantly bigger crowd than the 1,445,681 who watched the first Obama-Romney debate. Last week's veep-fest between Joe Biden and Paul Ryan had 1,342,417 viewers on these same 10 networks.
NBC and ABC had the advantage of big debate warmup acts from 7 to 8 p.m. NBC's
The Voice
won that hour with 364,863 viewers while
Dancing with the Stars
(goodbye Bristol Palin) had 296,021 viewers.
The premiere of The CW's
Emily Owens, M.D.
, which aired opposite the debate from 8 to 9 p.m., had a teeny-sized 20,653 viewers.
In Tuesday's local news derby results, WFAA8 won at 10 p.m. in both total viewers and 25-to-54-year-olds, the main advertiser target audience for news programming.
Fox4 had the most viewers at 6 a.m. while tying WFAA8 for the top spot with 25-to-54-year-olds.
The two stations also tied for first at 6 p.m. in the 25-to-54 demographic, but WFAA8 narrowly had first place to itself in total viewers.
Fox4 and CBS11 shared the first place gold at 5 p.m. in total viewers, with WFAA8 the 25-to-54 winner.
unclebarky@verizon.net