Pineiro's tenure growing short as co-anchor of CBS11's ratings-starved early morning newscasts
04/01/12 05:34 PM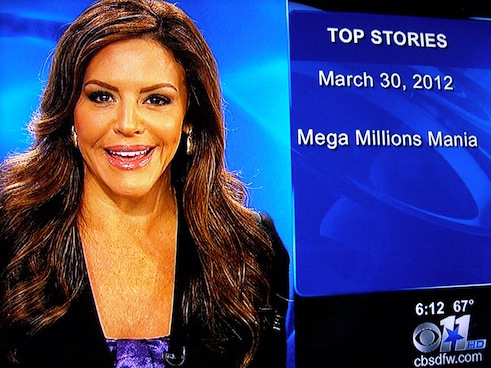 Lisa Pineiro on the Friday, March 30th edition of CBS11's early news.
Photo: Ed Bark
By ED BARK

Lisa Pineiro's tenure as co-anchor of CBS11's weekday early morning newscasts could end any day now.

Or it could stretch for several more months, depending on her success in finding work elsewhere.

Pineiro, whose contract runs until October, has been informed that CBS11 does not intend to renew it, sources close to the situation tell unclebarky.com. She has been freed to pursue other opportunities while at the same time potential replacements have been visiting the D-FW-based station to openly audition for the early morning anchor position.

Pineiro has not returned an email requesting comment. Lori Conrad, CBS11's director of communications, said this week, "As this is a personnel matter, I decline to comment."

Pineiro has continued to anchor throughout this week, and with her usual upbeat demeanor. She
joined CBS11 in the fall of 2010
and co-anchored her first early morning newscast on Oct. 28th of that year. Her desk partner at the time was Scott Sams, who later was let go and now is part of the morning drive time news team on KRLD radio (1080 AM).

Pineiro then anchored for the next seven months with traffic reporter Teresa Frosini, who is among those being considered as her replacement. On Oct. 24th of last year, Keith Garvin joined the early morning team after CBS11 dropped sister station TXA21's prime-time newscasts, which he had been anchoring. He remains as Pineiro's anchor partner.

Pineiro, the single mother of four sons, had been a stay-at-home mom for five years before joining CBS11. Her last on-air job had been as an anchor-reporter for Salt Lake City's KTVX-TV.

"We think North Texas viewers will respond to Lisa's warmth and sincerity," CBS11/TXA21 president and general manager Gary Schneider said at the time in a publicity release. She replaced Ginger Allen, who returned to the station's investigative unit and still heads that team.

CBS11 had a shred of momentum in the early morning ratings when Sams and Pineiro were first paired. On the Wednesday before their initial newscast together, the station had finished a heady second from 6 to 7 a.m. among 25-to-54-year-olds, the main advertiser target audience for news programming.

Any momentum since has dissipated. Shackled with a little-seen "lead-out," the ever-changing 7 to 9 a.m. CBS network program, CBS11 ran far out of the money in the February "sweeps" ratings period. The featured 6 to 7 a.m. portion averaged just 39,290 viewers, with 16,551 in the 25-to-54 range.

In that same period, third-place WFAA8 (which has considerable momentum of late), drew 77,225 viewers, with 50,857 in the 25-to-54 demographic. Front-running Fox4's respective viewer totals were 113,127 and 68,612. The latter figure is more than four times CBS11's total in the key 25-to-54 measurement.

Pineiro clearly isn't solely to blame for CBS11's seemingly terminal early morning shortfalls. She's just the latest to feel the sting while WFAA8 has put itself back among the living with a
saturation promotion campaign
on behalf of glib, telegenic Ron Corning. He's gradually establishing a following as he nears his first year on the job.

TV news stations large and small generally don't like to talk about departures, announcing newcomers with warm words of praise and then going into cones of silence when things don't work out.

It's the nature of the beast, and the television industry is hardly alone in this respect. But at least now you'll know what's happening with Lisa Pineiro, whose best years in the business could still be ahead of her.