It's a wrap for another very fine Dallas Video Festival
11/10/08 12:20 PM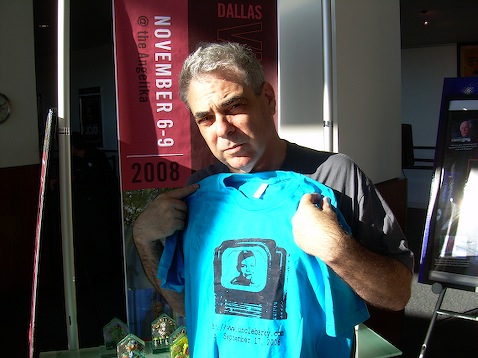 Dallas Video Festival founder Bart Weiss excitedly showcases his new, limited edition, ultra-cool unclebarky.com T-shirt during Saturday afternoon screenings at the Angelika. Photo: Ed Bark
The 21st annual Dallas Video Festival is history after a wealth of weekend attractions at the Angelika.
Your friendly content provider attended a Saturday afternoon screening of Stefan Forbes'
Boogie Man: The Lee Atwater Story
, an 88-minute film on the life and times of the hell-on-wheels GOP image-maker best known for being George H.W. Bush's attack dog during the 1988 presidential campaign.
It's a terrific, full-bodied documentary that can be
purchased for $22.98
, plus shipping and handling, via the filmmaker's official web site.
Video Festival founder Bart Weiss later posed (above) with the ultimate prize -- an official, limited edition unclebarky.com T-shirt. They're also available -- but in very limited supply -- for $20 apiece, including shipping.
If perchance you want one -- either out of support for unclebarky.com or to use for target practice -- email me
here
and I'll get back to you with more details.
Ed Bark