Arbitrator decides against WFAA8 anchor/reporter Debbie Denmon in discrimination suit against station
11/16/11 04:16 PM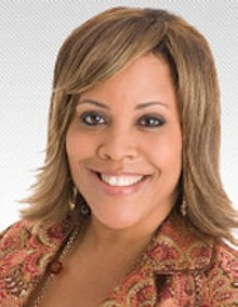 Debbie Denmon in wfaa.com photoBy ED BARK
An arbitrator has ruled against WFAA8 anchor/reporter Debbie Denmon in her
weight and race discrimination suit
against the Dallas-based station.
"There was no money split. She got zero," said a source familiar with the case who spoke on condition of anonymity.
Denmon, who has a plus-sized figure, sued WFAA8 in September after a 5 p.m. weekday anchoring position she had applied for instead went to colleague Shelly Slater, who is white and thinner. There was "no merit" to Denmon's claims that she had been discriminated against, arbitrator Elizabeth Scott Wood ruled.
WFAA8 president and general manager Michael Devlin, who had ignored requests for comment while the case was in progress, said Wednesday that the station is "grateful that the arbitrator's decision was based on the clear facts of the case, and on the merits of the legal claims."
"We made legitimate business decisions based on performance," Devlin said. "And at the end of the day, the arbitrator confirmed that there was nothing wrong with our doing so. We have always stood by our decision, and we are glad we fought this to the end and obtained complete vindication of any wrongdoing."
Denmon, who was represented by Dallas attorney Michael Coles, has not returned an email request for comment. She will continue to work at WFAA8.
During hearings leading up to the ruling, roughly 20 station employees were called to testify. Most prominent among them was WFAA8's longtime 6 and 10 p.m. sports anchor Dale Hansen, who was Exhibit A in Denmon's case. Hansen, who has been with the station for 30 years, regularly jokes about being fat during byplay with other WFAA8 anchors.
A clause in WFAA8 contracts mandates that any claims of discrimination be resolved by binding arbitration rather than in a courtroom. The station is owned by Belo Corp., which also is the parent company of
The Dallas Morning News
.
Denmon currently anchors WFAA8's weekend newscasts and also reports three days a week. She joined the station in October 2000.
The arbitrator's unequivocal ruling against her contrasts with a January 2007 judgment in which former WFAA8 anchor Scott Sams (now with KRLD-AM radio) was awarded $683,771 in back wages, damages and attorneys' fees. Both sides claimed victory, though, with WFAA8 saying the sum represented just four percent of what Sams originally asked for.