A closer look at TEGNA8's Verify Road Trip segments and the reporter behind the wheel
02/09/17 10:49 AM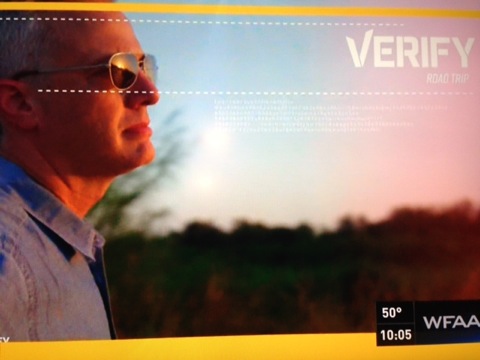 David Schechter is point man for Verify series. Photo: Ed Bark
By ED BARK
@unclebarkycom on Twitter
During
The Dallas Morning News'
"Unique and Unduplicated" phase, major staff-driven stories were expected to meet that criteria. If you could read pretty much read the same stuff elsewhere, then forget about it.
That particular tagline is long gone, but the need to differentiate is all the more imperative in times when consumers are spread-eagled among a myriad of media choices. The traditional go-to sources, newspapers and television newscasts, are increasingly hard-pressed to keep their circulations from decreasing to the points of no return.
Dallas-based TEGNA8's long-form
Verify Road Trip
series, incubated at last summer's national political conventions with shorter dispatches, is a TEGNA corporate initiative designed to set its owned stations apart with storytelling that both invests and investigates. Reporter
David Schechter
, arguably the last true stylist in the D-FW market, is the free-and-easy leading man for the series. His setups are identical: "My name is David Schechter. I'm a veteran reporter, and now I work for you. I'm taking real people out on the road to get their questions answered. And you're coming along for the ride."
His pieces are given ample room to stretch out -- averaging about eight minutes apiece. That's a commendable and very unusual investment of both time and money. TEGNA's
Road Trip
game plan also calls for Schechter's reports to air on the corporation's other Texas stations in Houston, San Antonio, Austin, etc.
The first extended
Road Trip
turned out to be kind of a silly idea. Schechter and a designated commoner, in that case a third grade teacher, sought to "verify" what the famed Marfa Lights actually are -- a mystery or solvable by science. They came to no conclusion after succumbing to a paranormal road already well-traveled by a variety of local and national media outlets.
But subsequent
Road Trips
have asked questions of real value about Texas' water supply, the Black Lives Matter movement and whether a border wall in reality is workable or needed. Schechter's latest segment, which aired early in Wednesday's 10 p.m. TEGNA8 newscast on the fifth weeknight of the February ratings "sweeps," addressed another major Donald Trump campaign promise. Can his administration deliver on bringing back lost American jobs?
Schechter's traveling companion was a Rockwall single mother named Theresa, who is unemployed and trying to raise four children on her own.
They first visited a Rockwall metal shop whose workers make a livable wage of between $20 and $30 an hour, according to an employee who showed Theresa how to bend metal.
Hitting the road, by plane this time, Schechter and Theresa then visited Matamoros, Mexico with accompanying "guide" Dr. Thomas Coyle, an expert in international trade. He schooled them on failing Texas companies who stayed alive only by relocating across the Texas border to employ cheap $2 an hour labor. The goods are then transported back to Texas tax-free. End result: the companies survive and American consumers pay less for the products now made in Mexico.
The last stop was Lone Star, TX, where U.S. Steel Tubular Products is still ticking, but has laid off thousands of workers, according to the acting president of the local United Steel Workers union. Theresa got choked up at the thought of the many families who had relied on the company for their well-being.
So what truths did Schechter and Theresa discover together? She concluded that Trump "makes it sound too simple" in terms of bringing jobs back by strong-arming companies to either return to America or face very stiff penalties for leaving.
"You're verifying that we really can't bring our jobs back," Schechter told her. Yes, she agreed, but is hopeful that new ones can be created.
Schechter sometimes over-reaches in terms of keeping these segments in line with their overall "Verify" tagline. Gray areas remain, and even a bounteous eight minutes of television time can't erase them. Still, this is an innovative and informative way to do something quite different in hopes of establishing an "appointment" viewing habit. TEGNA8 amply promotes its "Verify Road Trip" segments in hopes they'll someday become ingrained and even eagerly anticipated by some.
Wednesday's 10 p.m. newscast ratings didn't provide any verifiable evidence. TEGNA8 overcame a lousy lead-in from ABC's
Match Game
to tie NBC5's late night news for the most total viewers. But each station had just 130,880 viewers in a market with 7.27 million. And among 25-to-54-year-olds (the main advertiser target audience for news programming), TEGNA8 ran last behind Fox4, NBC5 and CBS11.
The truth sometimes hurts. But TEGNA8 and its corporate owner at least are trying to move the needle in unconventional ways, with Schechter a good fit for this particular adventure.
Email comments or questions to:
unclebarky@verizon.net