Mini-mom to Major Market
09/17/06 12:29 PM
By ED BARK
(Note from writer: This was to have been the first in a recurring series with the umbrella title "Tele-types: Eye-catchers in Local TV News." Written in January 2006, it was "tabled" more than five months later by upper management at
The Dallas Morning News
. This is the article in its entirety. "Tele-types" now will be a recurring feature on unclebarky.com.)
Being a boss in the country's sixth-largest television market is in some ways the same old story for KDFW-TV (Channel 4) news director Maria Barrs. As the oldest daughter in a brood of 13 children, she has long been an authority figure.
"I was pretty much a little mom when I was 5 years old," Barrs says from the Fox-owned station's offices in downtown Dallas. "I could change diapers back in the days of pins and cloth. I was always in charge of the younger kids. My three older brothers, of course, had no responsibilities in the home at all. But they were boys. I think that's one of the things that helped me learn to manage a little bit at an early age."
Her mom is Filipino and her dad came from a poor coal-mining family in West Virginia. They met in the Philippines near the end of World War II before settling in San Francisco, where Maria was born. The family moved around constantly, living for long periods in a school bus converted into a mobile home. It got old in a hurry.
"My parents instilled a strong sense of responsibility, of right and wrong," she says. "I didn't always agree. I've always had a little problem with authority. I was supposed to be a good example for the little kids. I think for the most part I was, until I became a teenager."
She went off on her own at age 15, leaving the "controlled chaos" of home life to work at a string of low-paying jobs. Waitressing and house cleaning weren't for her, but "I was a pretty good nurse's aide."
Four years later, she and a girlfriend sold everything they had to finance a vagabond jaunt through Europe. They parted ways in Spain after an argument, with Maria journeying on her own to Morocco for a month before she returned to California with a new resolve to chart a better future.
Loving to read and eager to write, she enrolled in journalism school at a community college in Salinas, where she met her future husband in English class. Then a representative of KSBW-TV (the last three call-letters stand for "Salad Bowl of the World") visited the school in search of off-camera volunteers on election night. It changed her life.
"I couldn't believe how exciting it was for me," Barrs recalls. " just fell in love with TV."
"A newfound career path took her to TV stations in Sacramento and Redding, Calif., before she returned to Salinas and KSBW as a full-fledged reporter. Complications with her second pregnancy led to a supposedly "less stressful" job on the assignments desk, where her managerial strengths kicked in for good.
"I found I was better suited to that," she says. "I was never very comfortable being live on TV."
After three-and-a-half years at a St. Louis station, she returned for a third time to KSBW in Salinas, becoming news director in 1991. Her hires included anchor-reporter Dina Ruiz, who married Clint Eastwood in 1996. They still keep in touch with Christmas cards.
Barrs came to Channel 4 in 1994, initially as managing editor. The station quickly switched from CBS to Fox affiliation before Fox bought it outright in 1997. She survived both transitions after promising her husband that they'd stay in one place until their two children finished high school.
"So I was not in a position to up and leave, and I didn't," she says matter-of-factly.
Instead she moved up to her current position as news director in 1998. It's a big job. Channel 4 has more local news hours a day -- seven-and-a-half -- than any other Dallas-Fort Worth station.
"I take real seriously the 'Big J' (for journalism) stuff," Barrs says. "I care a lot about serving the community. I know that's corny, but we can make a big difference. We do all the time ... I"m not at all burned out. The big thing is not to feel that everything is on your shoulders."
Her newsroom office has nodding heads on plaster shoulders. Barrs' growing collection of bobbleheads includes characters from the movie "Anchorman," Ozzy Osbourne, Ronald McDonald, Simon Cowell, George W. Bush and Steve Nash and Michael Finley in their old Dallas Mavericks uniforms.
"They just started accumulating," she says. "People have started giving them to me for Christmas."
That's not a bad way to please or placate the boss. But Barrs says she's easier on her newshounds than with the siblings for whom she once played junior mom.
"I'm not a yeller, shouter and kicker. I mean, I've been known to, but that's real unusual. I don't like to intimidate or scare people into doing their jobs.
"I really try to encourage a democratic -- small 'd' newsroom. I'm real proud of the people here. And I like them."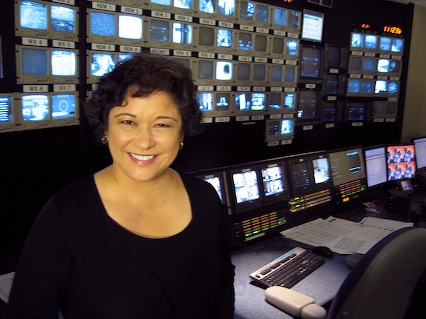 Name:
Maria Barrs
Position:
News director, KDFW-TV (Channel 4)
Born:
June 26, 1956, in San Francisco.
Home base:
Married to Jon Kemp, with children Patrick, 22, and Christina, 19.
Unwinds with:
"Yoga. It clears your head."
Favorite book:
The Grapes of Wrath
by John Steinbeck and "any good detective or courtroom thriller."
Favorite album:
Born to Run
by Bruce Springsteen.
Favorite movie:
"Anything with Fred Astaire dancing. And I'm sorry there's not another
Lord of the Rings
movie in the works."
Favorite food:
Mexican
Closing thought:
"I don't like the image of the stuffy broadcaster, the Ted Baxter type. There are some people, you put them on TV and they talk in an entirely different way than they do in real life. To me, that's building a wall."
Photo by Joe Kozlowski