"Better tomorrows" -- Former WFAA8 anchor Bob Gooding dies of cancer (updated)
04/20/09 09:47 AM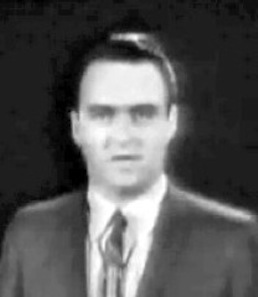 By ED BARK
Former WFAA-TV (Channel 8) anchor Bob Gooding, one of the station's signature newsmen for most of the 1960s and '70s, died over the weekend after a lengthy battle with cancer.
Gooding, who was 76, anchored WFAA newscasts from 1961-'79 after beginning his career in radio, according to the
station's obituary
. His trademark signoff was "Better tomorrows." He teamed with Murphy Martin, who died last July, during part of that period.
Gooding's son, also named Bob, said in March that his father was in the most extreme stage of the sarcomatoid carcinoma strain of cancer. He had decided to forego further treatments and tests.
"Dad said that since his dad had died at 68 and he is now 76, he feels as if he's on borrowed time anyway," Gooding's son wrote in a letter forwarded by former WFAA anchor Tracy Rowlett. "He said there's a difference between life and living. Instead of trying to prolong his life for an extra month or two, he was ready to live the rest of his life."
Rowlett joined WFAA in 1974, and eventually replaced Gooding as the station's signature anchor under a widespread revamping of the newsroom by the late news director, Marty Haag.
Gooding "was a decent and friendly man who always had a smile and enjoyed a good conversation," Rowlett said via email Monday. "I liked him and am saddened to get this word of his passing."