Local Nielsen ratings snapshot (Wed., May 25) -- boffo day for big events, with Mavs clincher leading the charge
05/26/11 11:09 AM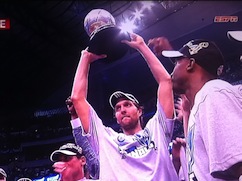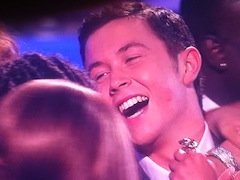 Crowning glories for Mavs man Dirk, Idol's Scotty. Photos: Ed Bark
By ED BARK
The final night -- and day -- of the May "sweeps" went out with three big bangs on the TV "event" front.
Oprah Winfrey signed off, teen country crooner Scotty McCreery won the 10th season of
American Idol
and -- oh yesssssssssss! -- the resilient old dog Dallas Mavericks closed out the very frisky pups from Oklahoma City in Game 5 of their Western Conference championship series.
Mavs-Thunder, which ran from 8:07 to 10:45 p.m. on ESPN, set a new 2011 post-season high with an average of 865,713 D-FW viewers. A record peak crowd of 1,253,552 watched the closing 15 minutes, in which Dallas again staged a white-knuckling 4th quarter comeback to win 100-96.
Advertiser-coveted 18-to-49-year-olds again turned out in huge numbers, with an overall average of 460,684 and a high point of 723,932 for the final 15 minutes.
Over on Fox,
American Idol
's for the most part highly entertaining 7 to 9 p.m. finale averaged 768,753 total viewers, with 355,385 in the 18-to-49 age range. During head-to-head competition from 8 to 9 p.m.,
Idol
soundly beat the Mavs in total viewers by a score of 817,233 to 602,536. The Fox juggernaut also prevailed with 18-to-49-year-olds during that hour, luring 375,128 to the Mavs-Thunder's 309,316.
Fox4's 9 p.m. local newscast, which refreshingly focused on post-tornado coverage instead of a prolonged and embarrassing
Idol
rehash, dominated its time period among non-Mavs alternatives with 429,393 total viewers. The newscast had just one
Idol
story, with a hyperkinetic Fiona Gorostiza reporting from the L.A. scene while ecstatically clutching a $10 bill she found on the way out of the Nokia Theater. Ugh.
Earlier Wednesday, the at long last finale of
The Oprah Winfrey Show
had a modest haul of 283,954 viewers from 4 to 5 p.m. on WFAA8. That was a slight drop-off from the 290,879 viewers who succumbed to the previous day's star-drenched Part 2 of
Oprah's Farewell Surprise Spectacular
. Still, she easily won her time slot Wednesday.
In Wednesday's local news derby results -- the last faceoffs of the 20-weekday May "sweeps" -- WFAA8 ran away from a final late night fight with CBS11. Instead it turned its 10 p.m. newscast into a tornado special, which enabled it to drop Wednesday's edition from the final sweeps averages.
CBS11 won a downsized 10 p.m. competition in total viewers with a deflated sum of 180,068 while WFAA8 ran second with 145,440. Potential audiences for both stations were deflated by the ongoing Mavs-Thunder game. So WFAA8 decided to take a knee to protect its overall "sweeps" average in a down-to-the-wire first place battle with CBS11, which took the field and played ball along with Fox4 and NBC5.
Was this a chicken-(bleep) move on WFAA8's part? Yeah, it pretty much was, especially from a station whose management repeatedly says that the "sweeps" don't matter anymore. Except, of course, when you win.
Fox4 and CBS11 tied for first place at 10 p.m. among 25-to-54-year-olds, the main advertiser target audience for news programming.
Fox4 again cleaned up at 6 a.m. with twin wins while WFAA8 used the
Oprah
finale's leverage to run the table at both 5 and 6 p.m.