A stunning and historic turn of events: Belo Corp. sells WFAA8 and other TV properties to Gannett (updated Friday a.m.)
06/13/13 10:37 AM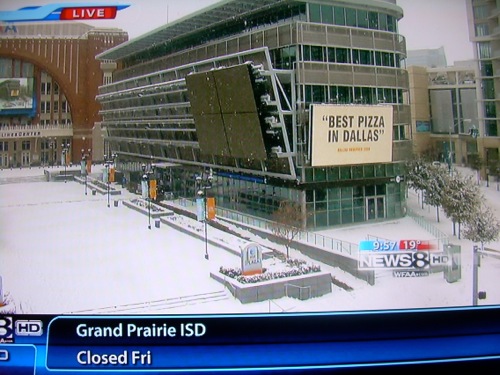 Many people people thought it would be a cold day in hell before Belo parted with flagship station WFAA8. It happened Thursday, with the station's Victory Park studios (pictured) set to become the property of Gannett Co., Inc. by the end of this year. Photo: Ed Bark
By ED BARK
WFAA8, the last remaining, locally owned major TV station in the Dallas-Fort Worth market, is allowing that ship to sail with Thursday's out-of-the-blue announcement of a $1.5 billion sale to Gannett Co., Inc. by Belo Corp.
Pending regulatory approval, likely by the end of this year, the big buy will increase Gannett's total of TV stations from 23 to 43, reaching nearly one-third of the country's U.S. households, according to a news release. Gannett terms it a broadcast "Super Group." Dallas-based Belo Corp.'s TV holdings currently include its tradition-rich flagship station, ABC affiliate WFAA8, and TV stations in Houston, Austin and San Antonio.
Belo's president and chief executive officer, Dunia A. Shive, said in a statement Thursday that the sale to Gannett is "an outstanding and financially compelling transaction for our shareholders . . . I am confident that we have found an excellent partner in Gannett -- they are a leading media company that shares our commitment to the highest levels of journalistic integrity and embraces an active approach to community involvement."
Gannett also has considerable newspaper holdings, including
USA Today, The Arizona Republic
and
The Cincinnati Enquirer
. Belo is still in the newspaper game, but as a different entity after spinning off its non-TV properties in 2008 into a company called A.H. Belo.
The Dallas Morning News
, founded in 1885, remains its crown jewel, although some expect the other shoe could drop after the stunning sale of Belo Corp.'s 20 TV stations.
Belo has owned WFAA8 since 1950 after acquiring it from Lacy-Potter TV Broadcasting Company. That was its major television entity until the 1980s, when Belo shifted into an aggressive expansion mode in times when broadcast TV remained a dominant force in American homes. (In 1969, Belo dipped a toe in the water with the purchase of a small Beaumont, TX TV station.)
The Belo buying spree came before WFAA8's principal rivals in D-FW -- KDFW-TV, KXAS-TV and KTVT-TV -- were bought by the networks who also furnished their programming.
KDFW became the property of Fox in 1995, switching from a CBS to Fox lineup in the process. KXAS was bought by NBC in 1998; KTVT, formerly a non-network independent, went under the ownership of CBS in 1999. The latter purchase coincided with the jump of WFAA8's longtime mainstay anchor, Tracy Rowlett, to a post as the new face of KTVT's newscasts.
The rapid-fire sales of those three stations left WFAA8 as the market's only mom-and-pop major player, even though Belo also had 19 other TV stations in its domain by then.
WFAA8, under the new anchor team of Rowlett and Iola Johnson, became a dominant force in the local newscast ratings during the mid-1970s. Both now make regular appearances on KTXD-TV's (Ch. 47)
The Texas Daily
, which
launched on Oct. 1st of last year
as a conversation-driven news program aimed at baby-boomers. The station is loaded with former WFAA8 stars, with Troy Dungan, John Criswell, Midge Hill and Gary Cogill also part of the rotating
Texas Daily
lineup.
The purchase of WFAA8 by Gannett comes at a time when stalwarts such as Gloria Campos, John McCaa and Dale Hansen all have accepted substantial pay cuts in return for remaining on the air during the waning years of their long careers. In the past two years, a number of experienced anchor/reporters have left WFAA8, voluntarily or otherwise, for new careers outside the TV business. They include Brad Watson, Debbie Denmon (also a part-time player on
Texas Daily
), Cynthia Vega, Craig Civale, Chris Hawes and Casey Norton.
Mostly during the reign of late, legendary news director Marty Haag, WFAA8 became something of a Triple AAA farm system for reporters who went on to make their mark at the network news level. Most prominent among them is Scott Pelley, now anchor of the
CBS Evening News
and also a
60 Minutes
correspondent.
In an earlier interview with unclebarky.com, Pelley said, "Everything that I learned from Marty Haag and (former assignments editor) Bert Shipp at WFAA are lessons that I employ at the
Evening News
every day. WFAA was the greatest training ground possible for a young correspondent. The traditions of news under Marty Haag were the highest that you will ever see. And that informed everything we did at WFAA."
WFAA8, under Belo ownership, also hired the D-FW market's first full-time African-American anchor, Iola Johnson, and the first featured Hispanic anchor, Gloria Campos. The station's national prominence dates back almost 50 years to its coverage of the Nov. 22, 1963 assassination of President John F. Kennedy. And in a more modern TV news era, WFAA8 received national accolades and exposure on the afternoon of Aug. 2, 1985, when it offered continuous live reporting on the Delta Flight 191 crash at Dallas-Fort Worth International Airport, in which 137 people died. Some rival stations remained with game shows during the early stages of WFAA8's acclaimed coverage.
WFAA8 also excelled with its live coverage, in October 1987, of "Baby Jessica's" disappearance into a backyard Midland, TX well at the age of 18 months. The dramatic rescue operation of little Jessica McClure, which stretched for more than two days, captured the attention of the nation. WFAA8's then state-of-the-art satellite truck put the station on top of the story from start to finish while its equipment-deficient D-FW rivals had to piggyback and wait their turn for periodic windows of opportunity.
The station still has a solid one-two punch in investigative reporters Byron Harris and Brett Shipp, both of whom have won far more prestigious Peabody and duPont-Colubmbia awards for their work than Fox4, NBC5 and CBS11 combined. Old-line reporters Jim Douglas and George Riba also remain on duty, but WFAA8 otherwise has been changing the face -- and faces -- of its news operation well before the Gannett purchase.
We'll have more on this later. But I'm now off to do some interviews on the impending end of an era. I've been covering D-FW television since 1980, and sheer longevity in this marketplace still counts for something on this historic day.
Email comments or questions to:
unclebarky@verizon.net