Flocking to Oxnard 'cause you can't buck the Cowboys (updated)
07/25/08 02:23 PM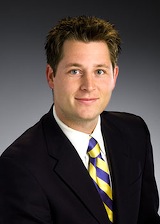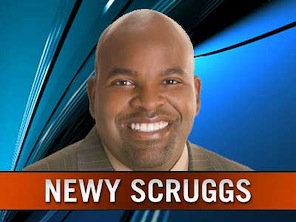 New NBC5 sports guy Matt Barrie and mainstay Newy Scruggs.
By ED BARK
Thursday marked the arrival of the Dallas Cowboys for their latest summer training camp in Oxnard, CA.
Do you know where all four of your Big Four D-FW television sports anchors were?
In Oxnard. It's one area where you just don't downsize, even if everyone pretty much had exactly the same Cowboys footage on their late night sports segments.
So much so that Fox4's
Mike Doocy
could be seen front and center with QB Tony Romo on two other stations besides his own. They were all following him on an airport tarmac after Air Force One, er, the Cowboys plane, made a safe touchdown. "It's exciting and fun," Romo told everybody.
NBC5's
Newy Scruggs
chose this bigger spotlight to introduce the station's "kinda cute" new fill-in sports anchor and reporter
Matt Barrie
to viewers.
"We're bringing sexy back in sports," Scruggs said of the spiky-haired Barrie, who's replacing the departing
Derek Castillo
. He hails from WLTX-TV in Columbia, S.C., but wasted no time in making it seem as though he's been covering the Cowboys since the Tom Landry era.
Barrie talked about the "buzz" around the Cowboys before adding, "I can tell you this. Forget about the disappointment. Wade Phillips said that was last year. And the wait is over. Football is here."
Doocy, not the new guy, was visible during NBC5's Romo interview snippet. Barrie otherwise was in sync with his new station, wearing a gray windbreaker with the NBC5 logo that matched Scruggs' attire.
Fox4 is dubbing its on-site coverage "Foxnard: Cowboys Camp 2008." But unlike his rivals, "The Dooc" had no help on opening night. He braved Foxnard alone, noting that it's "kinda chilly at night here." Kinda lonely, too.
Head coach Phillips "seemed a little defensive about that Giants' loss" in the Cowboys' opening playoff game last season, Doocy noted. But the subsequent sound bites from the Cowboys' "State of the Team" news conference showed no corroborating evidence, at least not on Thursday's 9 p.m. newscast.
On WFAA8 -- where there also was a Doocy/Romo sighting -- anchor
Dale Hansen
showed up "lookin' ugly" in another of his traditional road trip Hawaiian shirts.
At least that was the view of weathercaster
Pete Delkus
, who's given Hansen more stiff arms than former Cowboys coach Barry Switzer.
Hansen was just cold. And in case you didn't get that, he said so on three separate occasions, ending with a double shot of "I'm freezing out here!"
Hansen earlier noted that first round draft picks Felix Jones and Mike Jenkins still weren't signed, with "their agents doing the usual dance that some agents like to do. Apparently it justifies their check, but those two will be here soon enough."
He also opined that "President Bush" (apparently the current one) should play Cowboys owner Jerry Jones in any movie about him because "at least he has the voice mannerisms down pat already." Sorry, don't see it.
Reporter
Ted Madden
accompanied Hansen to Oxnard while CBS11's
Babe Laufenberg
used
Steve Dennis
as his wingman on coverage titled "Cowboys Training Camp -- It's On!"
They wore matching, short-sleeved, dark blue CBS11 logo'd knit shirts, although Laufenberg really didn't want to roll that way. Laufenberg noted, however, that Dennis was determined to go jacket-less and he therefore couldn't be seen as "less of a man."
The two sparred a bit over whether wide receiver Terry Glenn finally would sign with the Cowboys or be cut loose.
"Terry Glenn will be a Cowboy and on the practice field tomorrow (Friday)," Dennis declared. "That's what my gut says."
"My gut says the other way, but that's OK," said the Babe.
(Laufenberg turned out to be right. That's why they pay him the big bucks.)
Laufenberg also advised the team on how it can quickly sign those two top draft picks.
"It's real easy. Just give 'em a whole lot of money," he said.
(Both draft picks were signed later in the week.)
CBS11 had both the longest Cowboys segment Thursday and the only Doocy-less one save for a split-second glimpse of half his face.
Now that's how ya do it if you're a rival station.