No one watched at the time, but it's been a nice after-party for KTXD's The Broadcast
05/14/14 03:50 PM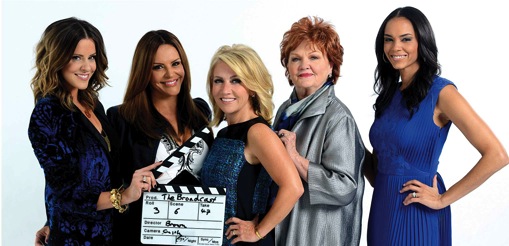 The Broadcast gaggle (left to right): Courtney Kerr, Lisa Pineiro, Amy Kushnir, Suzie Humphreys and Dawn Neufeld. KTXD-TV photo
By ED BARK
@unclebarkycom on Twitter
If a co-host walks off a TV show that the Nielsen ratings say nobody in D-FW watched, then does it actually count as a walk-off?
In today's media world, it indeed does count for something when various national websites, including
Huffington Post
and
Gawker
, happily hop on the controversy and replay the dust-up on KTXD-TV's Tuesday, May 13th edition of
The Broadcast
.
Co-host Amy Kushnir, the one who left the building, did so after arguing that the brief, celebratory NFL draft day kiss between openly gay Michael Sam and his boyfriend should not have been shown live on ESPN. Co-host Suzie Humphreys agreed it was not for public consumption while co-hosts Courtney Kerr and Lisa Pineiro just as emphatically lined up on the side of Sams and ESPN.
Kushnir, who had made the same case on Monday's
The Broadcast
(with co-host Dawn Neufeld in studio instead of Pineiro), abruptly decided she'd heard enough. She unhooked her microphone, got up and essentially let Kerr and Pineiro know they could kiss off. Particularly Kerr, the histrionic party girl of Bravo's
Most Eligible Dallas
and
Courtney Loves Dallas
, both of which have been canceled.
"Thanks everyone for the sweet feedback about this," Kerr later tweeted. "I will always stand up for love & equality."
Kushnir, who describes herself as a "Foodie, Mom and Girlfriend" on her My Texas Today website, hasn't fared quite as well on her Twitter page. "Get over your pompous bigoted self," @Warpedauthor (Patrick Wendling) tweeted before labeling Kushnir a "stupid cow."
Right about now, KTXD should be encouraging Kerr and Kushnir to physically mud-wrestle soon on
The Broadcast
in the spirit of settling their differences. Because this is publicity money can't buy for a show that still can't get arrested in the weekday D-FW ratings. Humphreys, for her part, might want to go along with the idea of chasing Pineiro with a frying pan. Rockin' it old school.
Otherwise reality sets in. Tuesday's 9 to 11 a.m. live telecast of
The Broadcast
registered "hashmarks" (no measurable audience), according to Nielsen data. So did that day's 4 to 6 p.m. repeat.
Monday's
The Broadcast
, during which the reliably cantankerous Humphreys bluntly denounced "The Kiss," also had no measurable audience in either time slot. This is the long-established norm for
The Broadcast
, which hasn't gotten beyond "hashmarks" since the Monday, May 5th morning edition averaged 710 viewers in a market of 7.1 million. No, that's not a misprint.
KTXD's most-watched program on Tuesday, May 13th, when
The Broadcast
flared up, was the 6 to 8 p.m.
America's Funniest Home Videos
bloc. It averaged 12,072 viewers. Not exactly a juggernaut, but 17 times the audience drawn by
The Broadcast
on the most recent day it drew any audience at all.
Still, there's this.
The Broadcast
in fact does sometimes show a pulse during its chat segments. It's all genuinely unscripted, which seems like the way to go if you have any hopes of differentiating yourself.
The host conflagrations, on both the Monday and Tuesday editions, at least were not the equivalent of
Jerry Springer
or professional wrestling fakery. Kushnir's huffy exit clearly wasn't staged either. And even if technically no one watched at the time, the reverberations are very good vibrations for a show such as this. Now if only Jimmy Fallon, Jimmy Kimmel, David Letterman, Jon Stewart, Conan O'Brien or anyone else in network TV's late night firmament will take the bait, show a clip and make fun of
The Broadcast
.
That would be a beautiful thing for a program whose continued flatline Nielsen ratings give it nowhere to go but straight up.
Update:
Fox News Channel took notice and has scheduled Kushnir as a guest on the Thursday, May 15th edition of
The Kelly File
, hosted by Megyn Kelly. It airs from 8 to 9 p.m. (central).
Email comments or questions to:
unclebarky@verizon.net