Brave new world -- or just getting what you pay for?
04/02/09 03:43 PM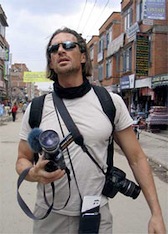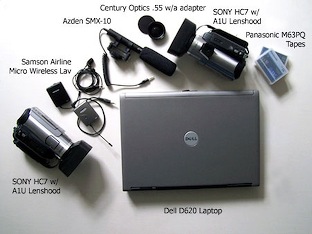 Typical "backpack journalist" -- and the tools of his/her trade.
By ED BARK
Reliable sources inform unclebarky.com that David Duitch, news director of "The 33," is off to Columbia, Missouri to interview new college graduates for two vacant "backpack journalist" positions at the Dallas-based CW station.
And since he isn't the first -- or the last -- let's state the obvious. The pathway to a job in local TV news -- provided you're willing to work long hours for minimal pay -- is perhaps easier now than it's ever been for kids out of college with minimal experience but a willingness to learn on the fly.
In prehistoric times, you generally had to work your way up to a market as large as No. 5 Dallas-Fort Worth. You know, spend a few years in Puddle, Idaho before making several more moves toward the top. But Facebook-centric CW stations, and others as well, are now prematurely picking young fruit from the tree rather than waiting for it to ripen.
Pelpina Trip
, whose "Pelpina's Tips" are a nightly staple of The 33 news, joined the station earlier this year directly from the University of North Texas. But she's "been a media fanatic since she was born," says her station bio. So that helps.
This isn't meant to rag on Pelpina or any other eager young job-seekers, though. It's not their fault for being hired by news directors with diminishing budgets and edicts to make further cuts.
You can see what's happening around the country in that respect. Longtime anchors with top-heavy salaries are either taking buyouts -- if they can get 'em -- having their salaries cut, or simply being called in and told, "Thanks for the memories" -- but no thanks.
Experienced reporters who have built up their paychecks over the years are wondering when the forearm shiv is gonna come. Forced furloughs without pay and short-term contracts also are in vogue. Why keep Joe Sourcesupthewazoo when you can hire a young, fresh "backpack journalist" for what amounts to dimes on the dollar?
A backpack journalist, by the way, is someone who interviews, reports, shoots, edits and packages stories on their own. It's obviously cheaper that way. And the potential practitioners tend to be straight out of J-school.
Experience, of course, is harder to teach. And there's also little if any evidence to suggest that you'll attract a younger audience by putting on a newscast that ostensibly aims to please them. They're way too deep into the Internet and text-messaging for that.
Look at The 33's year-to-year ratings in both total viewers and 18-to-34-year-olds.
In the just-concluded March "sweeps," which subbed for February this year, The 33's 9 p.m. newscast averaged 33,215 total viewers in a market of more than 6 million people. That's down from the hardly imposing 53,144 viewers for March 2008.
But did The 33 improve its standing among 18-to-34-year-olds? That's the target audience for CW programming and increasingly, the newscast wedged between the 8 to 9 p.m. attraction and
Family Guy
repeats at 10.
In the March 2009 sweeps, The 33 averaged 10,107 viewers in the 18-to-34 age range. That's down from the previous March, when 15,165 viewers in the 18-to-34 demographic were watching the station's 9 p.m. news. So even fewer young people are tuning in despite or because of "Pelpina's Tips" (on the coolest new web sites) and an abundance of other stories referencing either Facebook or MySpace. In the process, former regular viewers are being alienated. After all, what's in it for them?
Duitch, who became news director last July, is entitled to put his stamp on the station's news department. Instead he's put a stomp on it, dumping most of the anchors and reporters with a little mileage on them.
Other holdovers, mostly notably longtime weathercaster Bob Goosmann, have been demoted and/or given pay cuts. Former NBC5 meteorologist Rebecca Miller is the only new hire familiar to D-FW viewers. She's doing what Goosmann used to do on weekdays while he's relegated to weekends and occasional weekday appearances during severe weather.
Whatever happens to The 33's newscasts likely is of small concern to most viewers. But the same thing, in smaller doses so far, is occurring in most local TV newsrooms. Keeping a staff of experienced/ qualified anchors and reporters is getting to be a luxury that too many stations no longer are willing to afford.