The Kimmel Live! 10 p.m. news leadout: coming very soon to WFAA8
01/07/13 04:13 PM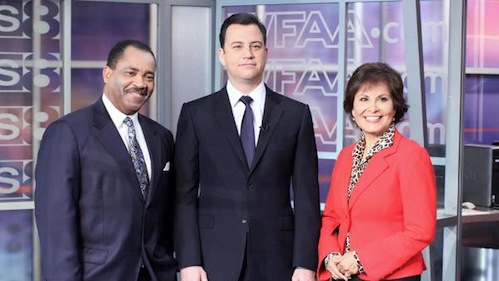 ABC's Jimmy Kimmel with WFAA8's 10 p.m. anchors, John McCaa and Gloria Campos, during a Dec. 4th stop at the station. wfaa.com photo
By ED BARK
@unclebarkycom
Even with remote controls at the ready, "lead-ins" can still have a major impact at both the local and national TV levels.
They've been referenced regularly on unclebarky.com. But "lead-outs" also can play a role in how well a program performs in the Nielsen ratings. And we're nearing another possibly big test of that truism.
WFAA8's weekday 10 p.m. newscasts get a new lead-out on Tuesday, Jan. 8th, when ABC's
Jimmy Kimmel Live!
debuts at 10:35 p.m. (central) while
Nightline
gets pushed back to a likely 11:35 p.m. burial ground. Station management is hoping for a ratings lift, particularly among the key advertiser target audience for news programming, 25-to-54-year-olds.
The lead-out factor currently is most evident with the still potent
Wheel of Fortune
, which follows CBS11's 6 p.m. newscasts. The station engages in a bit of chicanery here by starting
Wheel
at 6:27 p.m. nightly while WFAA8 generally is in a bank of commercials following its 6 p.m. edition.
In the November ratings "sweeps," CBS11 nipped WFAA8 by a paper-thin margin in total viewers, according to data from Nielsen Media Research. And that was in no small part due to
Wheel's
overall average audience of 247,831 D-FW viewers compared to just 110,147 for WFAA8's competing
Entertainment Tonight
. (WFAA8 willingly let
Wheel
go over to CBS11 in Sept. 2005, with
station management publicly stating
that its audience had grown too old.)
Here's another Nielsen number to digest. The second half of CBS11's 6 p.m. newscasts -- the part containing those three minutes of
Wheel
-- averaged 165,221 viewers in the November sweeps, up from the 137,684 who watched the 6 to 6:15 p.m. segment. WFAA8 averaged 151,452 viewers for the first half of its 6 p.m. newscasts before dipping a bit to 144,568 for the 6:15 to 6:30 p.m. part.
That made the difference -- the "warm-up" factor for
Wheel
on the part of viewers who had CBS11's newscast in view for at least a portion of it.
Wheel of Fortune
also won its time slot, but by a far narrower margin, among 25-to-54-year-olds. But it wasn't nearly enough to keep CBS11 out of fourth place in that key demographic.
OK, let's go to latenight, where the first 15 minutes of
Nightline
beat all competing programming in total viewers during the November "sweeps." Among 25-to-54-year-olds,
Nightline
trailed only Fox4's syndicated
TMZ
, which got a 5-minute jump start at 10:30 p.m.
Kimmel Live!
, which started at 11:05 p.m., was beaten in total viewers by the closing half-hours of both NBC's
Tonight Show with Jay Leno
and CBS'
Late Show with David Letterman
. Kimmel tied Letterman among 25-to-54-year-olds, with both shows edged by Leno.
Nightline
obviously is a news program, although it's gradually gotten lighter than a souffle. And a news lead-out on the face of it should be more compatible with a preceding news program. So that's a challenge for Kimmel.
It's also yet to be determined whether Kimmel's brand of humor will play well in D-FW opposite the full editions of both Leno and Letterman. It's already a given that he's not particularly in sync with WFAA8's longstanding "Family First" tagline. On the current cover of
Rolling Stone
, Kimmel flashes a plumber's butt crack. And the early potion of the accompanying story details Kimmel packing a dose of pot "into a ceramic one-hitter" while weighing whether to allow this to be on the record.
"Ah, f . . . it," he later says. "Write about the weed."
So it should be interesting. And the February "sweeps" ratings competition is now just three weeks away, with a Jan. 31st to Feb. 27th duration.
WFAA8's earlier gamble this fall with the syndicated
Katie
as its 5 p.m. local news lead-in so far has been something of a bust. Performing reasonably well nationally, Katie Couric's daytime talker ran fourth in D-FW during the November sweeps in total viewers and third with 25-to-54-year-olds. That's a far cry from what
The Oprah Winfrey Show
used to do for much of its quarter-century run on WFAA8.
Veteran WFAA8 anchors John McCaa and Gloria Campos now will be required to tout Kimmel's featured guest instead of
Nightline
. That will be quite a change of pace for them, although it's something the anchors at NBC5 and CBS11 have been doing for years.
For now, CBS11 is the defending 10 p.m. sweeps champ in total viewers -- and by an uncommonly large margin over WFAA8. But WFAA8 holds the 25-to-54 crown, where CBS11 wasn't a factor in November.
We'll let you know in March whether
Jimmy Kimmel Live!
proved to be a help, a hindrance or a wash.
unclebarky@verizon.net