Adrienne Roark leaving CBS11 as news director, heading to Portland, OR
05/09/14 11:47 AM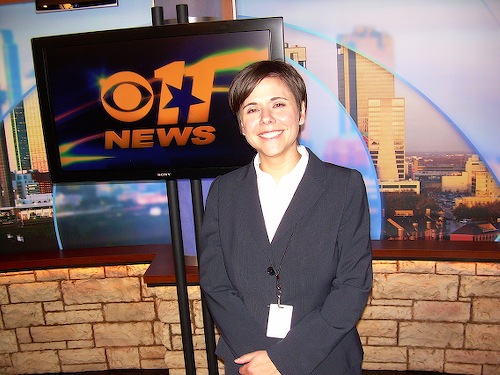 Adrienne Roark shortly after joining CBS11 as news director in spring 2010. She's heading to KOIN-TV in Portland, OR. Photo: Ed Bark
By ED BARK
@unclebarkycom on Twitter
Adrienne Roark, who joined CBS11 as news director on March 23, 2010, resigned Friday and will be joining CBS affiliate KOIN-TV in Portland, Oregon as that station's general manager.
Roark arrived in D-FW from CBS-owned WFOR-TV in Miami, FL, where she also had been news director. Roark, 39 at the time, became CBS11's fourth news director in a little over three years.
"Yes, there was a bit of a feeling of being unsettled here, of people not being sure what was going to happen," Roark said in an
April 2010 interview with unclebarky.com
at CBS11's Fort Worth studios. "And yes, they definitely need stability, and I'm not planning on going anywhere anytime soon. I want to be able to put my children in a good public school system and see it through. I can do that here."
In that context, Roark's four-year stay at CBS11 was something of an eternity. During her tenure, the station regularly won ratings "sweeps" competitions at both 6 and 10 p.m. in the total viewer Nielsen ratings. But CBS11's percentage of 25-to-54-year-old viewers (the main advertiser target audience for news programming) has badly sagged of late.
In the ongoing May sweeps, the station likely will end up running a distant fourth across the board in that key demographic for the 6 a.m. and 5, 6 and 10 p.m. local newscast competitions.
CBS11 director of communications Lori Conrad confirmed Roark's departure early Friday afternoon. She will remain with the station through the end of May, with assistant news director Michael McCardel then heading the news department "until a permanent replacement is named," Conrad said.
Roark could not immediately be reached for comment via an email sent late Friday morning. Until the end of this month at least, all four major D-FW television news providers will
still have women as news directors
. Roark's counterparts are Robin Whitmeyer at Fox4, Susan Tully at NBC5 and Carolyn Mungo at WFAA8.
Email comments or questions to:
unclebarky@verizon.net