Doocy and "The Hammer" -- one really needs a job
05/19/08 05:14 AM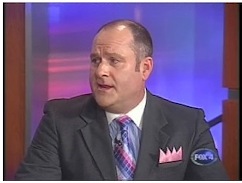 Fox4's Mike Doocy and former "Ticket" mainstay Greg Williams
By ED BARK
All dressed up but still with no place to go, former big-time radio personality Greg "The Hammer" Williams looked a bit older and maybe even wiser Sunday night during his first public appearance in more than seven months.
The former co-host of "The Ticket's"
Hardline
afternoon drive show talked sports and eventually other things with Fox4 sports anchor Mike Doocy on his 10 p.m.
Sports Sunday
program. Those other things, of course, were of more interest.
"Why'd ya leave?" Doocy asked of Williams' abrupt October disappearance from The Ticket, followed by a January announcement of his resignation.
"Well, it was my own fault," Williams said. "It was my own fault that I left, and ya know, if I hadn't a done some of the things I did, some bad things, I'd probably still be with The Ticket. But I did them, and I'm not there anymore."
Doocy, whose program has been a regular venue for Ticket personalities, then asked him to specify "the bad things."
"Illegal drug use -- exactly what it was," Williams said. "And I'm embarrassed to admit that. But that's the truth and something I've got to live with . . . something I'm trying to overcome and something I battle every single day. But that's what it was."
Williams said he's been diagnosed with depression, but "I don't think that had anything do with that (his drug addiction)." Daily medication has put him back in play, he said. "Everything is great. I haven't felt this well in probably five or six years."
Asked whether he yearns to return to radio, Williams said, "Well, yeah, I really do. And all I can say is stay tuned . . . I might just pop up."
ESPN 103.3 has acknowledged talking to him, but that was last year. On The Ticket he cast himself as a know-it-all, reliably coarse "common man" who particularly enjoyed discoursing on women's "boobs."
"How do you know I have to go to an all-sports station?" Williams asked Doocy. "How do you know?"
"I don't think Kidd Kraddick's in any trouble," Doocy rejoined, referring to the longtime king of Dallas morning drive.
"Don't think I don't have my eye on his job," Williams said.
He curiously closed his segment by wishing a happy birthday to "one of my best friends," Jud (Tall?), who turns 112 years old on Thursday, Williams said.
Good night and good luck.