This just in: A night in the lives of D-FW's 10 p.m. newscasts (Fri., Nov. 3)
11/06/06 04:58 PM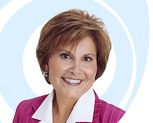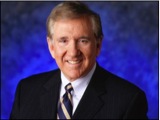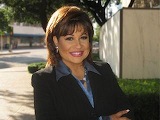 Belo8's Gloria Campos, CBS11's Tracy Rowlett, Fox4's Clarice Tinsley. All had their moments on the 2nd night of the November "sweeps."
By ED BARK
This never would have happened in the glory years. But it's a new day at Belo8, which increasingly is inclined to follow the tone and agenda of tabloid-infused, No.1-rated NBC5.
Friday's 10 p.m. Belo8 newscast ripped another page from its rival's playbook. The ABC station's top-of-the-newscast promo regurgitated an alleged story that NBC5 trumpeted on the previous night. It was all about that nefarious "sexy sign" for a Lewisville eat-drink-and-be-merry joint, with reporter
Steve Stoler
in the saddle.
It should be noted that Stoler is a capable veteran who's simply going where he's assigned. Increasingly, though, asinined ideas carry the day, in this case requiring Stoler to troll for outrage over a billboard showcasing two servers in tight tops and short shorts. Otherwise the come-on is "Beer-Burgers-Babes."
"As a woman I feel that it sets us back," said a denizen who really didn't seem to have her heart in her indignation. "You can see almost everything, and it doesn't leave very much to the imagination."
Belo8 of course provided a loving closeup, in which the two women almost looked like nuns compared to your basic Dallas Cowboys cheerleader.
"Sex sells, and that's the facts," a woman customer of the place told Stoler. "So they're just taking advantage of a marketing tool. You can't blame 'em for that."
What she's saying is resoundingly true -- about both Belo8 and NBC5. But you
can
blame 'em for that. This is the country's sixth-largest TV market. Aren't there matters of greater import?
Later in the diminished Belo8 newscast, co-anchor
Gloria Campos
got sophomorically suggestive with the weather.
"Well, I heard a four-letter word mentioned for the weekend --
RAIN,
" she told forecaster Pete Delkus.
Campos also asked, "Ladies, do have bat wings?" Viewers then were treated to brief footage of sagging underarm flesh, which can be stretched back into shape by a new surgical procedure or something.
Belo8 sports anchor
Dale Hansen
capped things off by being synergistically tardy with his reference to a
Dallas Morning News
report that receiver Terrell Owens was falling asleep at some team meetings. His Fox4 counterpart,
Mike Doocy
, had linked Owens and the
DMN
story a night earlier. At least Hansen has his priorities straight. To his credit and probably to his eventual downfall, he's never been a corporate man.
Over at NBC5, it was business as usual -- a fast-paced passel of crime stories. They included anchor
Mike Snyder's
dramatic reading of a wanted man who's been exposing himself before asking, "Have you seen this?"
Then anchor
Jane McGarry
asked, "Do you feel safe at home?" as a tease to reporter
Carol Wang's
piece on a new home security system. Anyone watching a typical NBC5 newscast can be forgiven for assuming that D-FW is almost unfit for human habitation. Then again, those daring enough to venture outside closed doors can always shop the bargains. In that realm, the station presented a thinly disguised infomercial on behalf of a Fort Worth woman who supposedly sells home furnishings at fabulous prices.
"$500 for this bed? That's crazy," reporter
Brian Curtis
dutifully marveled.
D-FW's two anchoring mainstays, CBS11's
Tracy Rowlett
and Fox4's
Clarice Tinsley
, closed their respective newscasts on intriguing notes.
Tinsley clearly wasn't thrilled with a kicker about an inebriated couple that strode nude into a Nashville greasy spoon. The displeased look on her face spoke volumes. Suggested caption: "Of all the stories in this wide, wide world, is
that
the best we could do as a sign-off?"
Rowlett watched closing footage of a "raging bull" running rampant in Newark, NJ before being subdued and hauled off. He noted that the creature was sedated, not euthanized.
"I get nervous, too. I hope they don't do that to me," he then told co-anchor
Karen Borta
.
"You never know," she said, laughing.
"Well,
you
would," Rowlett rejoined.
Translation: Rowlett might know whereof he speaks. His extended contract with CBS11 runs until July 2008. But there's speculation that he may be taken off the 10 p.m. newscasts, whose ratings still are falling well short of the popular "lead-in" programming provided on most nights by the CBS network. In this view it would be a mistake to confine Rowlett to the station's early evening newscasts. He remains a topflight anchor and the reigning Walter Cronkite of D-FW news. Still, it's rumored that a change could be made sometime next year.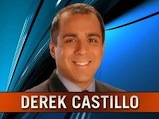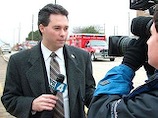 NBC5's Derek Castillo, Belo8's Shelly Slater and Fox4's Brandon Todd had solid reports on Friday's 10 p.m. newscasts.
There was some good work, too, including the following:
***NBC5's
Derek Castillo
is the market's most underappreciated sports reporter. His weekly showcase is the station's "Big Game Friday Night" high school football report, clearly the best in the market. Castillo's enthusiasm is contagious, not off-putting. He's a strong communicator, whether in the field or occasionally behind the anchor desk.
***
Shelly Slater
, up-and-coming newcomer at Belo8, had a sobering report on Salvia, a hallucinogenic herb that's been banned in some states but can still be purchased legally and cheaply in Texas. She did so, buying a bag for $20 at an herb shop. The springboard for the story was a teenager who committed suicide while on Salvia. Supposedly one hit is the equivalent of drinking six beers at once.
***In the same vein, CBS11's
Ginger Allen
reported on the legal prescription drug Ambien, which is supposed to be a sleeping aid. Instead some teens are getting high on what they call "Zombie pills."
***All four stations reported on the Arlington man who shot and wounded an intruder that had broken into his home. But Fox4's
Brandon Todd
went the extra mile, obtaining a tape of a frantic 911 call to police from the shooter's wife. It vividly brought the story home.