Real Housewives of Dallas slightly stops the ratings bleeding -- but not the stench (plus other stuff)
05/04/16 10:17 AM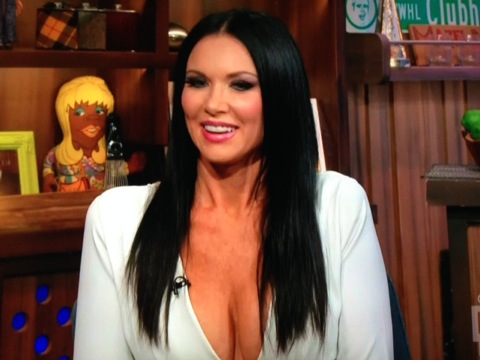 LeeAnne Locken "showcasing the girls," as she put it, during Monday's post-RHOD edition of Bravo's Watch What Happens Live.
Photo: Ed Bark
By ED BARK
@unclebarkycom on Twitter
Monday night's Episode 4 of Bravo's
Real Housewives of Dallas
perked up a bit in the national ratings while still running well behind the latest weekly hours of the two other currently running
Housewives
shows.
RHOD
drew 838,000 viewers, compared to 828,000 the previous week while remaining at a .3 rating among advertiser-prized 18-to-49-year-olds. That stopped a three-week slide for a show that started out with a weak 1,076,00 total viewers before dropping to 920,000 in Week 2.
The Tuesday, April 26th episode of
Real Housewives of Beverly Hills
had 1,844,000 total viewers and a .7 in the 18-to-49-year-old demographic. Last Wednesday's edition of
Real Housewives of New York City
weighed in with 1,322,000 viewers and a .5 in the 18-to-49 age range.
The
New York City
and
Beverly Hills
editions were the only Bravo shows to rank in the daily top 100 cable programs compiled by
tvbythenumbers
. In contrast,
RHOD
had some help from its lead-in program,
Southern Charm
, which drew 1,111,000 total viewers and placed 37th among cable's overall top 100.
RHOD
then fell to 76th place, its lowest ranking to date, while losing 273,000 of the viewers it inherited from
Southern Charm
.
Episode 4 again wove excrement and passing gas into the "storyline." Brandi Redmond said that her pal, the apparently frequently farting Stephanie Hollman, lets loose with emissions that smell like deviled eggs. Redmond, Hollman and the equally self-absorbed Cary Deuber later ganged up on LeeAnne "Ya Know What" Locken at a contrived girls' night out cocktail party. Locken supposedly once crapped her pants, which sent the girls into giggle fits before the accused approached them and got in Redmond's face again. She then smashed a champagne glass and stormed out.
Locken next appeared on Bravo's following
Watch What Happens Live
, hosted by
Real Housewives
executive producer Andy Cohen. "I'm showcasing the girls," she said when he asked about her "different" look. On next week's
RHOD
, as a tease showed, Locken will accost one of the show's cameramen in an effort to shut down her verbal/physical catfight with longtime -- and long-suffering -- pal Tiffany Hendra.
Cohen did not ask Locken directly about once pooping her pants, but she's clearly become the show's principal shit-stirrer with her blend of looks that could kill and open-mouthed horror at breaches of decorum during charity events. If
RHOD
somehow manages to stumble into a Season 2, Dallas mostly can "thank" Locken (with a major assist from the studiously infantile Redmond) for keeping the thing afloat like a turd in a balky toilet. Sorry. Just trying to meet
RHOD
on its own terms.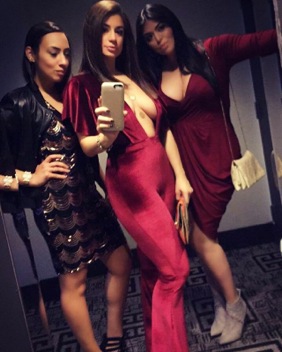 Speaking of "showcasing the girls," that's CBS11 meteorologist Lisa Villegas (center) in Vegas via a new picture on her public Instagram account.
Villegas currently is doing the weather on the station's weekday early morning and 11 a.m. newscasts as a sub for Scott Padgett, who's moved to the 5, 6 and 10 p.m. editions in place of former chief meteorologist Larry Mowry, who left in March to join Chicago's WLS-TV. For better or worse, this shot clearly out-does any of her male counterparts' inclinations to strip down to their shirtsleeves whenever severe weather strikes. (Note: the picture since has been taken down.)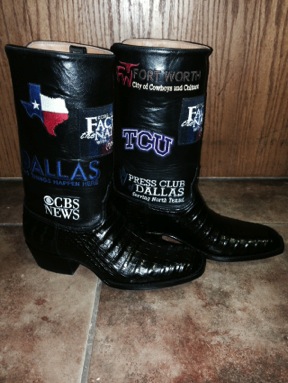 Let's close on a considerably higher plane with the above picture of the newly finished, custom-made Cowboy boots that will be presented to Bob Schieffer after the
Press Club of Dallas recently celebrated
his long and distinguished career at CBS News.
The boots are a gift from Mayor Mike Rawlings and the city of Dallas, and were made by Wild Bill's Western Store. Schieffer also received a custom-made Stetson hat at the April 11th gathering from Fort Worth mayor Betsy Price. Its maker is Peters Brothers Hats.
Email comments or questions to:
unclebarky@verizon.net