Easy for her to say: Cynthia Izaguirre makes Daybreak debut
01/04/08 07:51 AM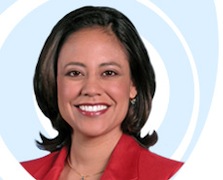 Daybreak beginner's new Belo8 mug and previous KOAT-TV shot.
By ED BARK
Accentuate the positive, enunciate Izaguirre.
The latter could be the biggest hurdle facing new fans of Cynthia Izaguirre, who made a smooth, virtually flub-free
Daybreak
debut Friday morning with highly hospitable co-anchor Justin Farmer. Sample exchange:
"We're so happy you're here, Cynthia. You are wonderful."
"Thank you, Justin. So are you. And thanks for taking me to breakfast yesterday morning."
"We had a good time."
"Yeah, we did. Boy, we were just chattin' it up."
Only her surname presents a stumbling block. The rain in Spain stays mainly in the plain. So it's not easy being Izaguirre in an early morning world of easily rendered Ryans, Fergusons, Fields, Hendersons, Allens and Sams.
Izaguirre's brand new Belo8
bio
says she's most often asked, "How do you pronounce your last name?"
"It's easy," we're informed. "Just break it down phenetically (sic). EE-SAH-GEE-REH. O.K. . . maybe not so easy!"
On the air Friday, she seemed to be saying "EEZ-A-
GEAR
-A" during half-hourly introductions of herself. Maybe flash cards would help?
Outfitted in fire engine red Friday, Izaguirre definitely knows how to read a TelePrompTer. She spoke clearly, precisely and without undue affectation during her first two hours as Belo8's latest very early riser. The only blip came when Izaguirre addressed
Good Morning America
anchor Robin Roberts as "Robert" during the daily promotional chit-chat segment. She instantly rebooted, though.
Farmer, who's co-anchored
Daybreak
since fall 2005, underscored Izaguirre's North Texas ties throughout the two-hour program. Although born in Brooklyn, she was raised in Dallas and is a graduate of Thomas Jefferson High School and the University of North Texas. Before returning to Dallas, she spent eight years as a featured anchor at KOAT-TV in Albuquerque, N.M.
"Hometown girl is back," Farmer enthused.
"I'm back in Big D," Izaguirre agreed.
"How does it feel?"
"Ya know what, it feels
very
satisfying."
Izaguirre also disclosed that she's living with her mother in Dallas while waiting for her Albuquerque home to sell.
"All the crazy (Texas) pronunciations. You've got that down," Farmer nudged.
"Ma-hey-a, spelled M-E-X-I-A," Izaguirre rejoined. "We're good to go with all that."
The new team meshed without any promotional buildup from Belo8. That's a stark contrast to the station's 2005 re-launch of
Daybreak
, when Farmer and Jackie Hyland (now newly with WCBS-TV in New York) were pictured on miniature cereal boxes distributed to potential viewers.
Daybreak
currently is running second in the early morning Nielsen ratings behind Fox4's
Good Day
. It's the only major news battle not being won by Belo8, which is first at 5, 6 and 10 p.m.
However you end up pronouncing her name, Izaguirre seemed at ease Friday in her new early morning surroundings. Just one question, though.
"How do you get the recommended eight hours of sleep on this shift?" she asked Farmer, who had no ready answer.
Izaguirre said she managed just two hours before hitting the
Daybreak
starting blocks for the first time.
Her already challenging surname doesn't need any extra z's. But Izaguirre definitely will have to get some.