Mungo officially baptized as WFAA8 news director via two-page publicity release
02/07/12 05:50 PM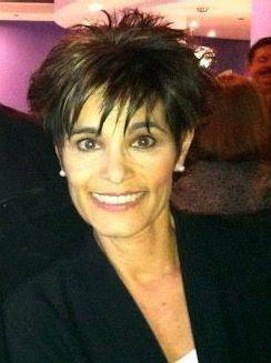 Carolyn Mungo in Facebook profile pictureBy ED BARK
Effusive praise from her new boss and an emphasis on making new digital media inroads characterized WFAA8's official publicity release announcing Carolyn Mungo as the Dallas-based station's new news director.
Her
hiring was reported earlier Tuesday on unclebarky.com
. Mungo will make it an unprecedented foursome in the D-FW market, with women also running the newsrooms at Fox4 (newcomer Robin Whitmeyer), NBC5 (Susan Tully) and CBS11 (Adrienne Roark).
Mungo previously worked for WFAA8 president and general manager Mike Devlin during his time as news director at Houston's KHOU-TV. She's a New York native who resigned in late January as assistant news director at KRIV-TV, Houston's owned and operated Fox station.
"As someone who worked in the field for many years, Carolyn knows the importance of enterprise reporting," Devlin said in a statement. "Her background in newsgathering is an essential quality for a successful WFAA newsroom."
Both WFAA8 and KHOU are owned by Dallas-based Belo Corp. Mungo was one of Devlin's star, award-winning reporters at KHOU. Both left the station in 2005.
Mungo is "experienced, resilient, thoughtful and a good communicator, whom I believe will be the next outstanding leader in the WFAA newsroom," Devlin said.
She in turn was not shy about touting herself as a visionary.
"The demands of a major market newsroom take a special set of skills," Mungo said in the WFAA8 publicity release. "I am well aware of the challenges because I have lived them. I am thrilled to be able to lead WFAA to new heights, and to continue the legacy and tradition of a strong newsroom in North Texas."
Mungo said she also is well-versed in digital media extending beyond the traditional living room TV set.
"It's not good enough anymore to simply embrace new media," she said. "It has to become part of the fabric of a television station. The key is engagement, every hour of every day. Creating strong local content on multiple platforms will be a top priority. I cannot think of a more exciting time to be in television news."
Devlin noted that news consumers "are watching the 'three screens' more than ever. And reaching them is important to our success. Carolyn's foundation as a field reporter and content-focused news director are essential to a successful digital strategy at the station."
In an unsolicited email to unclebarky.com, former WFAA8 city hall reporter Chris Heinbaugh (now director of external affairs for the AT&T Performing Arts Center) lauded Mungo as a "journalist's news director who values strong reporting, writing and storytelling. And as a manager, she is a teacher who supports veteran reporters and nurtures and inspires new ones."
Heinbaugh said he has known Mungo for 18 years, both as a friend and as a news competitor during their days in Phoenix. "She was always the one to beat when it came to winning Emmy Awards, especially for writing," he said.
In the November "sweeps" ratings period, WFAA8 won only one major ratings battle in the key news demographic of 25-to-54-year-old viewers. The ABC affiliate topped the four-way 10 p.m. newscast competition while finishing third at 6 a.m. and 5 p.m. and second at 6 p.m.
WFAA8 recently has made inroads at 6 a.m., and has a fighting chance to pull into second place ahead of NBC5 among 25-to-54-year-olds at the close of the ongoing February sweeps.
WFAA8 said that Mungo will begin her news director duties in late February. The incumbent news director, Michael Valentine, has been named to a corporate position as vice president/content for Belo-owned TV stations.