Catching up with a cavalcade of changes in D-FW television news
08/06/13 06:12 PM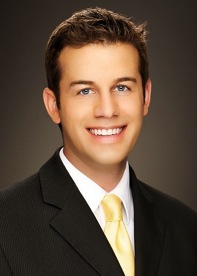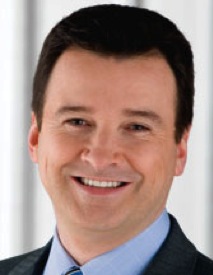 WFAA8's incoming Ashton Altieri and outgoing Steve McCauley.
By ED BARK
All of these items were
tweeted
from afar during my almost two week out West at the annual Television Critics Association summer "press tour."
But here we go again, and with a few more details.
The biggest change is at WFAA8, where veteran backup meteorologist
Steve McCauley
(who joined the station in March 2000) is leaving to pursue his Ph.D. full-time.
McCauley, who has been working the station's nighttime weekend newscasts, will sign off on Aug. 18th, news director Carolyn Mungo confirms. He had cut back from full- to part-time more than a year ago, but "recently came to us and said even part-time was becoming too much for him given his workload in school. Thus the change up," Mungo said via email. But McCauley will continue to "provide content on our digital platforms," she said.
McCauley's replacement is the very boyish looking
Ashton Altieri
, whose first day will be Aug. 14th. He arrives from ABC affiliate KXTV-TV in Sacramento, CA, where he was the weekday morning meteorologist for two years. Before that he spent six years at KUSA-TV in Denver.
WFAA8 also confirmed that
Julie Bologna
has been upgraded from freelancer to on staff part-timer. She'll be the station's weekend morning weathercaster in place of
Colleen Coyle
, who as
previously reported
will be shifting to WFAA8's new weekday 4 p.m. newscast, scheduled to start on Sept. 9th.
In another WFAA8 development, former "Why Guy"
Mike Castellucci
is back at the station
after five years
with KUSI-TV in San Diego. He recently began co-hosting WFAA8's 9 a.m.
Good Morning Texas
program with holdovers
Amy Vanderoef
and
Carrie McClure
. Castellucci also will "be featured on other broadcasts," according to a WFAA8 publicity release.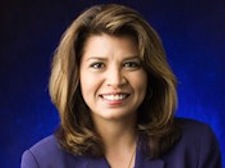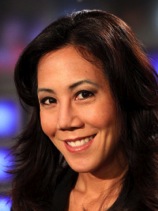 Former CBS11 reporter Carol Cavazos and Fox4's Lynn Kawano
CBS11 veteran
Carol Cavazos
is the latest reporter to opt for a PR position. She is now the director of media development for Streams Ministries International after joining the station in 2006.
Another vet, Fox4 reporter
Lynn Kawano
, has told station management she'll be leaving in September to return to her native Hawaii. Kawano has been with Fox4 since 2004.
Meanwhile, the station has bolstered its sports staff with the hiring of
Edward Egros
from WHNT-TV in Huntsville, Alabama, where he spent three years. He's now officially on board at Fox4, joining long-timers
Mike Doocy
and
Max Morgan
.
***
CBS11's new half-hour 11 a.m. newscast is set to premiere on Monday, August 12th. The incumbent program,
Jeopardy!
, will move to sister station TXA21, airing at 6 p.m. Despite the imminent premiere of the newscast, its anchors are still To Be Announced, the station says.
***
The D-FW radio market also suffered a huge loss when
Kidd Kraddick
died at age 53 of cardiac disease while playing in a charity golf tournament in New Orleans on behalf of Kidd's Kids. Kraddick also was one of the featured hosts on the syndicated
Dish Nation
TV program, which airs at 12:30 p.m. weekdays on Fox4.
A private funeral service for Kraddick was held on Friday at the Most Blessed Sacrament Catholic Church in Dallas. He had been a star radio personality in D-FW since 1984, with a home base of KISS-FM.
Here is video of Kraddick's colleagues remembering him during an interview with WFAA8's
Dale Hansen
.
Email comments of questions to:
unclebarky@verizon.net