Post-"press tour" catchup round: Hansen re-ups at WFAA8; Tam time up at NBC5
01/17/12 10:18 PM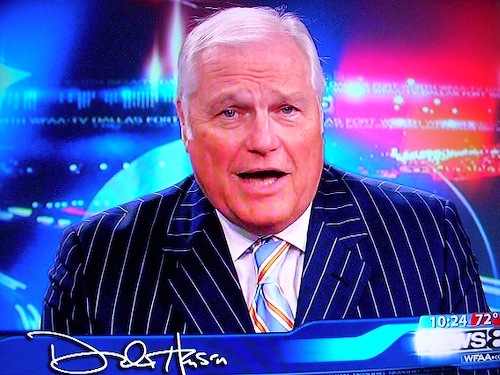 By ED BARK
Both of these local TV news items were
tweeted
from the just-concluded Television Critics Association winter "press tour" in Pasadena, CA. But non-following readers likely missed them, so here's a repeat.
The big news is WFAA8 sports anchor Dale Hansen's three-year extension of an ongoing contract. It takes effect in 2014 and will keep the always loquacious Hansen in play at the Dallas-based station until age 68, "if I live," he said in an email to unclebarky.com.
The new deal requires Hansen to take a 32 percent pay cut after his current five-year agreement expires. "Which I am absolutely fine with," he said, "because I 'get' the business I work in now. I do think it's somewhat important that people -- especially at Channel 8 -- know I play by the same rules.
Hansen, who joined WFAA8 in 1983 after being
fired by rival KDFW-TV (Fox4)
, said the contract extension allows him "some extra days off, to in effect give me a 5-day work week. Although I'll be doing the same six days (including his Sunday night
Sports Special
) most of the time."
***
NBC5 reporter Julie Tam, who joined the station in April 2010 from Fox affiliate WDRB-TV in Louisville, KY, is leaving after less than two years in D-FW. Her last day day will be Sunday, Jan. 22nd.
"While I weigh my options for what to do next, I will continue to run my business, which has been growing over the last few years, Tam says. That business,
TheApplicationMasters.com
, is a vehicle for editing college application essays, school assignments, resumes, etc.
Tam will make future "announcements" about herself on her
Facebook Fan page
, she says.