Local Nielsen ratings snapshot (Tues., Oct. 4) -- yawning gap between audiences for presidential and vice presidential debates
10/05/16 10:17 AM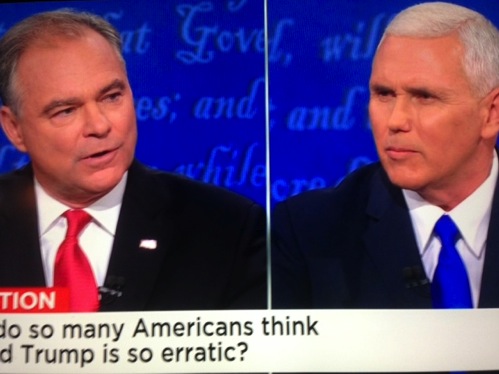 Pardon the interruptions? Democrat Tim Kaine unleashed a Trump-ian torrent of 'em during VP debate with Republican Mike Pence.
Photo: Ed Bark
By ED BARK
@unclebarkycom on Twitter
Telemundo and Univision cared so much that they didn't bother televising Tuesday night's one and only vice presidential debate between Democrat Tom Kaine and Republican Mike Pence.
That left a smaller network pool for an animated face-off that proved to be a ratings puddle compared to last week's Donald Trump-Hillary Clinton brawl. For his part, Kaine both wore a Republican red tie and seemed intent on being a Trump-ian interruptor of Pence, who wore Democrat blue.
Here are the network-by-network D-FW ratings in total viewers for Pence-Kaine.
NBC -- 167,235
ABC -- 145,422
Fox News Channel -- 116,334
CBS -- 87,253
Fox -- 79,982
CNN -- 58,169
MSNBC -- 43,627
PBS -- 14,542
That's a not-so-grand total of 712,564 viewers compared to 1,955,926 for the first Clinton-Trump debate. Sunday's Dallas Cowboys-San Francisco 49ers game averaged 1,396,051 viewers on just one network (Fox).
On ABC, CBS and NBC, the vice presidential debate fell off (sharply in two cases) from the 7 p.m. lead-in programs.
CBS'
NCIS
led with 327,200 viewers in that time slot, followed by NBC's
The Voice
(247,217) and ABC's
Dancing with the Stars
results show (167,235). Only Fox's 7:30 p.m. episode of
New Girl
, with 50,898 viewers, had a smaller audience than the following debate.
On TBS cable, the Toronto Blue Jays' extra inning wild card game win over the Baltimore Orioles averaged 203,591 total viewers. The Texas Rangers will square off with the Jays on Thursday at Globe Life Park in their best-of-five post-season series.
Here are Tuesday's local news derby results.
Two stations continue to dominate. Fox4 almost pulled off an exceedingly rare double grand slam on Monday and NBC5 came within a hair of the same feat on Tuesday.
The Peacock won at 5, 6 and 10 p.m. in both total viewers and 25-to-54-year-olds (main advertiser target audience for news programming) and added a 6 a.m. first in the 25-to-54 demographic. Fox4 had the most total viewers at 6 a.m.
Email comments or questions to:
unclebarky@verizon.net