Pee-yew: SMU, Baylor get back-to-back day games on tawdry truTV
03/16/17 02:25 PM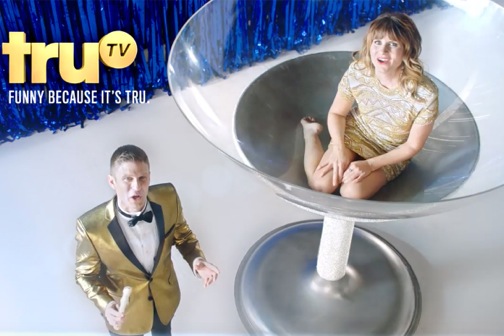 By ED BARK
@unclebarkycom on Twitter
TruTV, self-described as "Funny Because It's Tru," tends to be not overly amused when it's also branded a joke by snarky types like your friendly content provider.
Usually it's not worth the trouble, because the network remains out of sight and out of mind in most cable and satellite homes. But its basic invisibility annually becomes an issue during the early stages of the NCAA basketball tournament, when tru shares space with CBS, TBS and TNT as part of a long-term licensing agreement. On the opening two days and nights of "March Madness," truTV gets the same number of games -- eight -- as the other three far more-watched networks. For most viewers, this requires an archaeological dig if a game of particular interest gets the short straw and winds up on tru.
It all came to a head when the NCAA and its TV partners sentenced Texas' two most prominent tournament qualifiers -- SMU and Baylor -- to Friday daytime slots on tru. No. 3 seed Baylor plays New Mexico State at 11:40 a.m., followed by No. 6 seed SMU vs. USC at 2:10 p.m. If both Texas teams win, only one can advance to the "Sweet 16," because they'll play each other on Sunday.
It's assumed that most North Texas sports bars have tru and likely can find it in ample time to accommodate customers making early getaways from their places of employment. Still, no team should have to play on tru. And Texas teams are getting a double shaft with early games on a network whose biggest "success" story is
Impractical Jokers
. Here's a drinking game that will get you sloshed before SMU and USC even tip off. Imbibe every time tru airs an
Impractical Jokers
promo. My over-under for the two games combined is 20 -- and that's probably being conservative.
I earlier took a few pops at tru on Twitter. And tru fired back.
"Look, it's uncle barky again! BARK. BARK. BARK." the network twitted after I'd tweeted, "Trying to watch 2nd half of K State-Wake Forest NCAA play-in game on truTV & already hit with 4 #ImpracticalJokers spots. Subtract 2 IQ pts."
An accompanying tru video attached to their retort has a woman saying that "every basketball season the Internet trolls love to come out and say that truTV is so hard to find. Which is fair. But a lot of things we want in life are hard to find. But for trolls, a willing vagina. But keep dreaming."
I'm not sure I even have ties older than that joke. Still, this was getting to be fun. So I took the bait and responded, "A 'troll' with 7,700 Followers (a few thin-skinned Trumpeteers since have unfollowed). More than your audience. But at least I'm alerting viewers of your existence."
TruTV again had something to say: "Three wildly ignorant statements in less than 140 characters and you still had room for the hashtag!" This time, in the accompanying video, a woman said of the NCAA games on tru: "They just are. And they will be for another 15 years. Deal with it."
A little more Twitter banter ensued, but you probably get the picture, even if you don't get tru. This is a network that's armed and ready to defend itself as the current home of not only
Impractical Jokers
but of
The Carbonaro Effect, Hack My Life, Fameless
and
Chris Webber's Full Court Pranks
. And as the former home of other gems such as
Bait Car, Barmageddon, Hair-Jacked, Hardcore Pawn, Southern Fried Stings
and
Conspiracy Theory with Jesse Ventura
, which I actually reviewed for some reason under the headline
"Jesse Ventura body slams brain cells."
Charitably gave it a grade of D-minus.
No hard feelings, though. SMU and Baylor can't help it they've been Siberia'd to truTV as a further sign of disdain for Texas-bred basketball. Some of that is understandable. The state hasn't had a team in the Final Four since 2003, when the University of Texas got there. And before that it was Houston for three years in a row back in 1982-84.
In that sense, the truth hurts and tru may hurt even more. Playing there, compared to CBS, TBS or TNT, is the equivalent of winning $2 in the lottery or staying at the Desert Inn after it's just been imploded. Or as my last so far unanswered Tweet back to tru read: "Exaggeration is the sincerest form of humor."
Email comments or questions to:
unclebarky@verizon.net