This just in: A night in the lives of D-FW's late night newscasts (Mon., April 27)
04/28/09 01:08 PM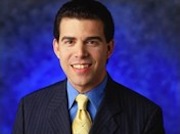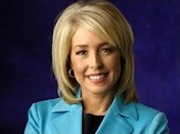 D-FW television newsies Jack Fink, Steve Eagar and Ginger Allen
By ED BARK
Wow, where do we start?
WFAA8 basically pitched a circus tent two-thirds of the way through Monday's 10 p.m. newscast, with much more to come next week.
CBS11's
Ginger Allen
unfurled her curls while having her hair treated with Formaldehyde. And colleague
Jack Fink
laid into DFW Airport officials, picking up where the station's
Bennett Cunningham
left off last September.
All of this and swine flu, too, although only one station ramped up the fear factor.
Thankfully, Fox4 cleansed the palate -- for this dogged viewer at least -- with a 9 p.m. newscast that proved to be a model of efficiency and useful information. That left NBC5 to make little impression, save for Gov. Rick Perry calling one of the station's reporters "brutha."
Let's begin with Fox4, which did an overall terrific job of covering the swine flu situation in a calm and reasoned manner, beginning with a report by
Sophia Reza
.
She was stationed outside of Canyon Creek Elementary School in Richardson, which is being closed for the rest of the week and disinfected after a seven-year-old student came down with the flu.
"I'm not alarmed, but I'm glad they're doing something," said parent David Suess.
Reporter
James Rose
and anchor
Steve Eagar
also took their feet off the swine flu gas pedal rather than raise any specter of an impending pandemic.
WFAA8 likewise offered a low key presentation, with
Steve Stoler
reporting from Canyon Creek Elementary before anchor
Gloria Campos
told viewers, "Now let's put this into perspective. There is no need to panic, just a need to be informed."
NBC5's swine flu "team coverage" began with veteran Night Ranger
Scott Gordon
cautioning viewers to stay away from emergency rooms and clinics unless they're really sick. Otherwise hospitals could be unnecessarily overrun, he said.
Reporter
Ellen Goldberg
offered the seemingly obligatory, "It's frightening, it's frightening" sound bite from a concerned parent. But she otherwise pretty much kept a lid on things.
CBS11 easily took the most alarmist tone, particularly during its coverage of the Canyon Creek closing. Stationed outside the school, reporter
Nerissa Knight
said of parents, "Many are scared, and some are concerned and
angered
because they say the handling of this wasn't done correctly."
Parent Fernando Munos said, "I feel a little upset." Another parent groused, "We get better notification when there's head lice."
The reports on Fox4, NBC5 and WFAA8 contrastingly depicted a sea of calm at Canyon Creek.
President Obama, in remarks Monday, emphasized there's "no cause for alarm." Unlike its rivals, CBS11 basically ignored that part of the president's remarks. Anchor
Doug Dunbar
instead told viewers that the administration is "acting as if the outbreak will spread into a full pandemic."
Back to Fox4, whose newscast later featured anchor Eagar's report on a young man's extended battle with a rare form of heart cancer. It was a touching, well-told story from start to finish.
The station also had another solid contribution from consumer advocate
Saul Garza
, whose "What's Buggin' You?" segments invariably get things done. This time he came to the aid of an elderly Pleasant Grove woman who was being threatened with foreclosure on her home of 33 years by a mortgage company that turned out to be in the wrong and later apologized. The woman's gratitude spoke volumes.
Shaun Rabb also had an informative, well-told story on the demise of the storied Pontiac brand.

FLYER ON THE FRYER -- CBS11's Fink went long with an extended piece on what he portrayed as the over-inflated salary of DFW Airport CEO Jeff Fegan, whose $400,000 yearly income makes him the highest paid such official in the country. Meanwhile, DFW airport revenues are decreasing in tough economic times, Fink said.

"I think DFW Airport has always had a history of compensating for talent," Fegan told Fink, who was unmoved.

Perception tends to rule in these cases, and it's hard to go wrong with a story chiding the six figure salaries of high level officials. Cunningham played the same game on Thursday's opening night of the May "sweeps" with an accusatory look at the big salaries for some presidents of publicly funded North Texas universities.

Interestingly, though, the cbs11tv.com Web site print version of Fink's DFW Airport story has appreciably more information and quotes in defense of Fegan. They hit the cutting room floor for his TV report.

OH, MY ACHING HAIR -- CBS11's Allen, who otherwise co-anchors the station's early morning newscasts, used herself as a prop in a piece on a new hair-straightening product that uses the embalming fluid Formaldehyde. Until now, only her stylist and perhaps some of Allen's colleagues knew that she suffers from curly hair "that I must flatten every morning."

While a salon worker applied the "riskier" but more effective Formaldehyde to her locks, Allen said, "I've been hiding this from the public for years. How frightening. Now they know."

More frightening: doing this story in the first place.

COSMETIC FACE-OFF -- Longtime WFAA8 medical reporter Janet St. James hit the Botox beat again with a story on how bargain basement versions of the stuff could result in "eyebrows with an exaggerated arch, or a droop."

A smoothed-over, middle-aged blonde woman who clearly has money to burn told St. James she's sworn off any Brand X Botox. Overall, the story was about as relatable as a Big Mac at a vegan restaurant.

PERRY AND THRUST -- NBC5 anchor Jane McGarry let it be known that reporter Omar Villafranca will be the station's point man in covering the Texas governor's race all the way to election day.

For one of his first assignments, he watched incumbent Rick Perry address a rally in Garland.

"Governor, you're very popular among the anti-Washington crowd right now," Villafranca told Perry offstage.

"That's a large crowd in Texas, brutha," he informed him. It's hardly coincidental that he's expected to face a challenge in the Republican primary from longtime Washingtonian Kay Bailey Hutchison, the state's senior senator.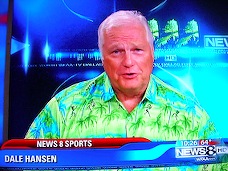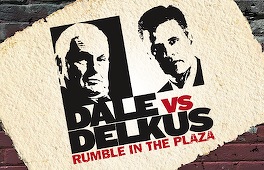 NEW NOWHERE LAND FOR NEWS PURISTS
-- Fresh from lazing on the beach in St. Thomas, sports anchor
Dale Hansen
returned to work Monday night after skipping the first two weekdays of the May sweeps.
"Don Ho has returned," jabbed weathercaster
Pete Delkus
, referring to Hansen's transitional Hawaiian shirt attire (see above).
News anchor
Gloria Campos
, herself freshly back in the studio after a cruise to Cozumel, received an eyesore necklace and matching earrings from Hansen. He first presumably joked that her great, great, great grandfather, Jorge Campos, had gifted St. Thomas with the invention of the banana daquiri.
"If you drink nine of them, you buy really cheap, ugly trinkets for thousands of dollars," Hansen told her.
Ah yes, there's nothing like visions of well-paid anchors soaking up rays in lush surroundings while your friendly content provider and most Americans dip rye crisps into their cream of boiled water soup. Oh, but we exaggerate.
Meanwhile, Delkus broke the news that he and Hansen will be staging the
"Rumble in the Plaza"
all next week, with portions airing on 10 p.m. newscasts, beginning May 4th.
"It's all for charity," Pete noted, with competitions ranging from putting to ping-pong. Those who donate $20 or more to either side will get a commemorative T-shirt. Charities benefiting are the YMCA of Metropolitan Dallas and Children's Medical Center.
Viewers will be allowed to pick the climactic Friday competition between the two outsized personalities. I'm suggesting a hot dog eating contest, because, well . . .
After all this, Hansen was asked if he wore a thong while on vacation.
"I wear a Speedo that over the years has become very, very slow," Hansen said to uniform cackles. "I have no idea what that means."
They closed down Monday's newscast/midway with Campos telling viewers, "Take a good look at this necklace Hansen gave me. 'Cause you're never gonna see it again."
Instead the circus is coming to town, beginning with next Monday's 10 p.m. edition. We'll see which way the ratings fall. Because if this works, then it's probably only the beginning.
Seventeen nights to go. Until the next time, here's Saul Garza's latest Good Samaritan housecall: