Mark her for stardom
10/01/06 10:43 PM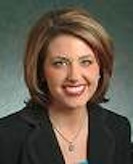 Shelly Slater, News 8By ED BARK
First impressions can be misleading, but not these.
Sparkling News 8 newcomer Shelly Slater, newly plucked from Fox-owned WDAF-TV in Kansas City, clearly is on a fast track to the top of the Dallas station's anchor hierarchy. No longer dominant at 10 p.m. or anywhere else, the Belo-owned station sorely needs a rising star with charm, smarts and sex appeal. In short, a beaming babe with brains. Sorry if that sounds sexist, but you can bet that station management is sold on exactly that combination.
Born in Plano, and currently anchoring weekends with Brad Hawkins, the University of Missouri-Columbia journalism major looks like a diamond in the not-so-rough. She already seems finely polished, a dynamite hire by a station that hasn't been No. 1 in the key 10 p.m. news wars since the November, 2001 "sweeps."
Slater prepped at WSAZ-TV in Charleston, West Virginia, where she was the 2003 Associated Press reporter of the year. She joined Kansas City's Fox station in 2004 as a general assignments reporter, soon becoming a weekend anchor. Now she's effortlessly assumed that same position at News 8. Her talent is apparent at first sight. Simply put, she clicks. Iola Johnson had that same kind of magic during her glory days at Channel 8 with co-anchor Tracy Rowlett.
Not that Slater's inevitable ascendance will happen overnight. Channel 8 obviously has a longtime incumbent anchor, Gloria Campos, at 10 p.m. weeknights. But there are ways of shuffling these decks without altogether dealing someone out.
Know this for sure, though. Belo8 is tired of losing ground to its network-owned rivals at Fox4, NBC5 and CBS11. Also, it's no longer enough to win in the household ratings anymore. Stations whose newscasts prosper with advertiser-coveted 25-to-54-year-olds are making the cash hauls these days. Belo8 isn't exactly a bullet on those charts, but that's where young gun Slater can help.
Prediction: By this time next fall, Shelly Slater will be a full-fledged player on one or more of Belo8's major weeknight newscasts. Not to put any undue pressure on her, but that's exactly why she was hired.