Local Nielsen ratings snapshot (Fri.-Sun., Feb. 24-26) -- split decision for Oscars vs. Grammys
02/27/12 10:20 AM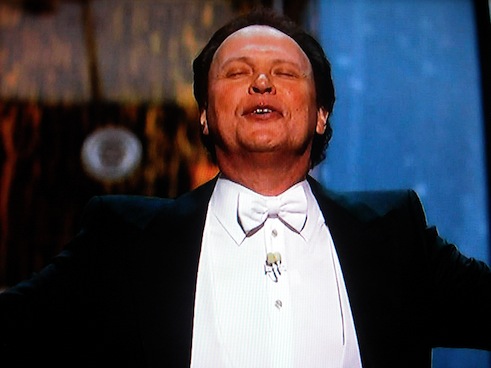 Billy Crystal hosted the Oscars for ninth time. Photo: Ed Bark
By ED BARK
Sunday's 84th annual Oscar-cast on ABC edged the Grammys in D-FW but fell short of the month's other big awards event among advertiser-craved 18-to-49-year-olds.
Hosted by Billy Crystal for the first time since 2004, the Oscars as usual ran longer than they should -- this time from 7:30 to 10:43 p.m. An average of 1,054,760 viewers were on hand, enough to edge the even longer three-and-a-half-hour Grammys on Feb. 12th (1,022,880 viewers in D-FW).
The Grammys' audience included 496,357 viewers in the 18-to-49-year-old range, with this year's Oscars falling a little short of that mark with 477,143. Whitney Houston's death on Grammy eve helped propel the ceremony to its second biggest audience ever, with only the 1984 show drawing a bigger crowd in the year Michael Jackson won eight trophies for
Thriller
.
The 84th Oscars significantly outdrew last year's Academy Awards in both ratings measurements. That one featured the widely panned hosting duo of Anne Hathaway and James Franco, with 907,267 viewers in attendance and 417,906 in the 18-to-49 age range.
Crystal's return also narrowly beat the 2010 Oscars ceremony hosted by veterans Steve Martin and Alec Baldwin. It had 1,024,731 viewers, with 443,578 in the 18-to-49 demographic.
The Oscars in part faced competition from the high-scoring NBA All-Star game on TNT, which started and ended earlier. It averaged 196,449 total viewers and 108,878 in the 18-to-49 motherlode.
In Friday's local news derby results, CBS11 cemented its insurmountable February "sweeps" lead in total viewers with another 10 p.m. win. But the race remains very much up for grabs among 25-to-54-year-olds (main advertiser target audience for news programming) with just three weekdays remaining. NBC5 won the latest round in what remains a tight fight with WFAA8 and CBS11. Any of the three stations could still finish either first -- or third.
The Peacock also won at 6 a.m. in total viewers and tied Fox4 for the top spot with 25-to-54-year-olds. WFAA8's
Daybreak
, which is still plying potential viewers with free food, is in a down-to-the-wire battle with NBC5 for second place at this hour among 25-to-54-year-olds. Friday's numbers didn't help, with WFAA8 slipping to a fairly distant third.
Fox4 swept the 5 p.m. Nielsens in both measurements and added a 6 p.m. win with 25-to-54-year-olds. Fox4, NBC5 and WFAA8 tied for first place at 6 p.m. in total viewers.