A major cancer relapse for former WFAA-TV medical reporter Janet St. James
11/19/18 11:28 AM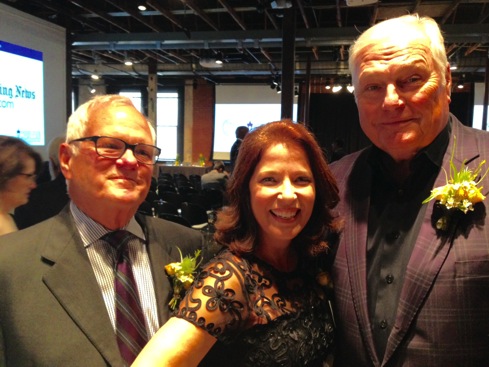 Janet St. James with former WFAA-TV colleagues Byron Harris (left) and Dale Hansen at the June 2017 North Texas Legends Awards, presented annually by the Press Club of Dallas. Photo: Ed Bark
By ED BARK
Former WFAA-TV medical reporter Janet St. James has had a devastating cancer relapse.
St. James
first went public
with her breast cancer diagnosis in April of 2015. She said it was the most difficult news she's ever shared. But in this case, "I was wrong. This story is much tougher," she said on her Facebook page Friday.
Her video is forthright, at times tearful and of course, heartbreaking. You can
watch it here
. All the best to you, Janet, in this very tragic time for you and your family.
Email comments or questions to:
unclebarky@verizon.net