WFAA8 will make Brad Hawkins its early morning co-pilot for at least the near future
07/10/08 04:12 PM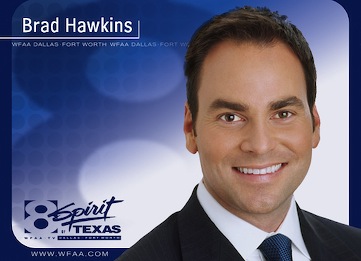 By ED BARK
WFAA8 veteran Brad Hawkins has won at least the short-term competition to succeed Justin Farmer as co-anchor of the station's early morning
Daybreak
program.
Informed sources at the station confirmed that Hawkins, a fixture on WFAA8's weekend newscasts, will join incumbent Cynthia Izaguirre when Farmer leaves for WSB-TV in Atlanta at the end of July. The job will be his for at least the rest of this year while management gauges both his performance and the program's ratings.
News director Michael Valentine declined to comment on Hawkins' status, although sources say that WFAA8 staffers have been informed of his impending move to the weekday early morning shift. Hawkins rejoined WFAA8 in January 2000 after an earlier stint as a production assistant in the station's Austin bureau.
Farmer has been a lame duck early morning anchor since January 4th, when he informed WFAA8 of his decision to leave for WSB-TV. Earlier that same day, Izaguirre made her debut as his co-anchor, replacing the departed Jackie Hyland.
Farmer since has been dealt out of
Daybreak
promotions while serving out his contract with WFAA8. His father, Don Farmer, was a star anchor at WSB and also a charter member of Atlanta-based CNN's anchor corps when the all-news network signed on in 1980.
Daybreak
ranked No. 1 in the May ratings "sweeps" among 25-to-54-year-olds, the main advertiser target audience for news programming. And the program tied with Fox4's
Good Day
for the top spot in the total homes Nielsens.
Also of note:
Former WFAA8 news director David Duitch has been named news director of Dallas-based KDAF-TV (CW 33). He's expected to start in mid-July.
Duitch replaces Mark Shepherd, who had helmed the station's 9 p.m. local newscasts on a shoestring budget compared to rival D-FW news operations. Duitch earlier had gone from Belo-owned WFAA8 to vice president of the corporation's Washington bureau in October 2004. But recent budget cuts put him on the street.
CW 33 is rumored to be expanding its local news operation, including the possible launch of a morning show by this fall. Previously owned by Tribune Corp. the station now is under the private ownership of notoriously outspoken Chicago billionaire Sam Zell.