Local Nielsen ratings snapshot (Fri., Nov. 5 -Sun., Nov. 7) -- buttery Cowboys spread thin in Dairyland
11/08/10 10:53 AM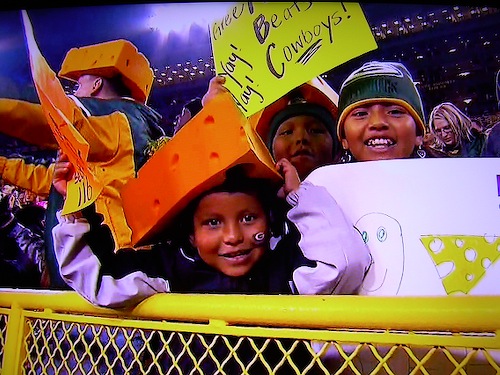 A li'l Packers fan and his cheese hat. Inseparable. Photo: Ed Bark
By ED BARK
The North Dallas Forty went Deep South on the scoreboard Sunday night, taking a 45-7 pasting from the Packers while NBC's play-by-play guys rubbed it in.
"It has been an across-the-board collapse," opined analyst Cris Collinsworth, who beheaded the Cowboys a bit later in the telecast.
"The Cowboys went back to basics this week," he told a national TV audience on the NFL's weekly showcase game. "And they're basically awful."
"This is an embarrassment," added play-by-play guy Al Michaels. "Now what?"
Regular readers of unclebarky.com likely know that its writer in residence is a Badger state native and graduate of the UW-Madison. So the weekend was doubly sweet when the University of Wisconsin Badgers took care of Purdue on the road Saturday to remain amid college football's Top 10 before the Packers glided over the Cowboys like a snowmobile in heat. Green Bay, whose entire population could squeeze into Jerry's Palace, is now super-jubilant heading into the injury-ravaged Packers' bye week. OK, I'll stop.
The game, which ran from 7:30 to 10:27 p.m. barely crept past the one million viewers mark at D-FW, averaging 1,031,929. In the final minutes, that audience dipped all the way down to 671,793 viewers. That was just a snippet more than the 664,867 viewers who watched the 6:30 to 6:45 p.m. segment of Sunday's Eagles-Colts game on CBS.
Over on ESPN Sunday, the Texas Motor Speedway's AAA Texas 500 drew a decidedly smallish crowd of 96,960 viewers. And Saturday on ESPN, the down-to-the-wire final race of the Breeders' Cup, in which Blame ended Zenyatta's perfect 19-race winning streak by less than a head, had a surprisingly dinky 48,480 viewers from 5:45 to 6 p.m.
In Friday's local news derby results, WFAA8 broke through to win at 10 p.m. in both total viewers and 25-to-54-year-olds, the main advertiser target audience for news programming on most stations. The margin over the November "sweeps" frontrunner, CBS11, was especially huge with 25-to-54-year-olds. WFAA8 had 108,735 viewers in this key demographic while CBS11 fell to a very distant fourth with just 24,854.
CBS11 fared much better at 6 a.m., tying Fox4 and NBC5 for first in total viewers and running second behind Fox4 among 25-to-54-year-olds. CBS11 long has been an out-of-the-money fourth in the early morning mix, but its numbers have been eye-opening on two of the last three weekday morns.
WFAA8 swept the 6 p.m. competitions in both ratings measurements and added a 5 p.m. win in total viewers. CBS11 had the 5 p.m. gold with 25-to-54-year-olds.