Hansen on Ellen: Yep, he's "amazing"
02/14/14 02:25 PM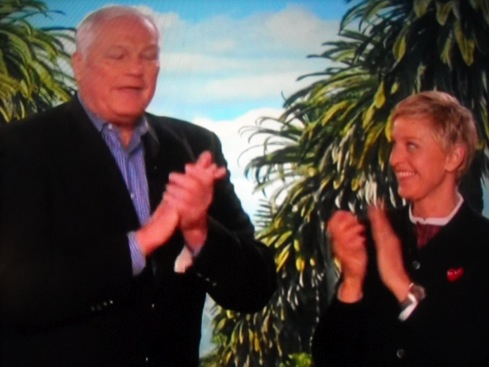 Applause, applause: WFAA8 sports anchor Dale Hansen and Ellen DeGeneres on Valentine's Day edition of Ellen. Photo: Ed Bark
By ED BARK
@unclebarkycom on Twitter
Loquacious, large-living WFAA8 sports anchor Dale Hansen has had many a wild time and perhaps even some wilder dreams during his more than three decades at the station.
It's safe to say, though, that he never envisioned bounding onto the Valentine's Day edition of
Ellen
, waving to the studio audience as the show's lead guest, hugging host Ellen DeGeneres and then basking in a standing ovation.
"What an amazing man this is," she proclaimed. Hansen tried hard to be humble, and in fact did a pretty nice job of it.
As you may have seen, heard or read (initially in
Tuesday's unclebarky.com post
), Hansen's Monday night WFAA8 commentary in support of NFL hopeful Michael Sam (who would be the league's first openly gay player) has reverberated throughout the nation. DeGeneres struck while he was still hot, flying Hansen and his wife, Chris, to Los Angeles for Thursday's taping of Friday's
Ellen
. It aired at 1 p.m. in D-FW on rival NBC5, now in a new content-sharing relationship with
The Dallas Morning News
after the paper ended that longtime relationship with WFAA8.
Not surprisingly -- and quite understandably -- WFAA8 prominently plugged Hansen's
Ellen
appearance during Thursday's 10 p.m. newscast. Rivalries go out the window when one of your own makes a big splash on someone else's air. Also not surprisingly, NBC5 didn't say a word even though
Ellen
has long been part of its afternoon lineup. Rivalries remain in place unless one of your own makes a splash on someone else's air.
It couldn't have gone any better for Hansen on
Ellen
. Not only did the host repeatedly praise him, but his wife had a front row seat in the audience. "The lovely Mrs. Hansen" is oft-referenced on the air by her husband but very few viewers have ever seen her. As Hansen said, though, this was a whole lot different.
"It wasn't like I was going to turn down maybe the greatest thing that's ever happened to me in my life," he told DeGeneres. "And seriously, the greatest thing that's ever happened to my wife," who went "absolutely crazy" as a daily viewer of
Ellen
.
"I am so proud of him," Chris said on-camera, blowing Dale a kiss. "Greatest Valentine gift in the world to be on
Ellen
."
"It did get me nominated for husband of the decade," he quipped.
DeGeneres, openly gay since famously coming out in 1987 on the "Yep, I'm Gay" cover of
Time
magazine, said that Hansen's commentary was "up to about 3 million views" on various social media outlets at the time of the taping. That figure now is much closer to 4 million, including 3,689,340 views of just a single top posting on youtube.
"It wasn't a brave thing, it wasn't a great thing I did," Hansen said. "The brave thing and the great thing was what Michael Sam did."
Hansen said his primary intent with the commentary was to "
slam
the hypocrisy of the NFL" on many fronts ranging from its long-ago resistance to black players to its more recent drafting of known lawbreakers. His punch line: "You love another man. Well, now you've gone too far."
DeGeneres said in turn, "We really do need people like you. We need heterosexual people that speak out and say this is not OK. Because I can only do so much and say so much. But we need help from other people."
Hansen said his words in support of Sam may have had more impact because they came from "an old, fat white guy from Dallas, Texas." And that goes against the "stereotype" of what much of the country expects to hear from someone like him.
In the previous unclebarky.com post, I noted my disagreement in some cases with Hansen's overall tarring of the NFL. But I've always credited him for bluntly speaking his mind and communicating his thoughts in ways that punch right through that piece of plate glass separating living rooms from TV personalities. In past "Unplugged" commentaries, he's ripped what he viewed as his
own station's hypocrisy
regarding use of a Jerry Jones video;
called out his two grown children
for being ungrateful; and
revealed that he was sexually molested as a boy.
Among other things. There's no one anywhere near like him in the D-FW market, and there won't be ever again. But Hansen has never gone "viral" to this extent. And by now, he might even know what that means.
Here's the video of Hansen's appearance on
Ellen
:
Email comments or questions to:
unclebarky@verizon.net