This just in: A night in the lives of D-FW's 10 p.m. newscasts (Wed., Feb. 14)
02/15/07 12:42 PM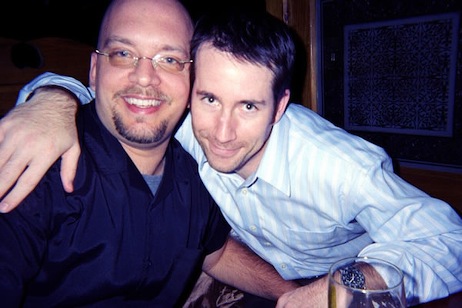 In happier times: D magazine editors Eric Celeste and Tim Rogers
By ED BARK
D
magazine's annual "Best Doctors" issue underwent a proctoscopy at the hands of Belo8 investigator
Byron Harris
on Wednesday's 10 p.m. newscast.
But was Harris himself guilty of malpractice? The magazine's
Frontburner
bloggers immediately got busy making that case Thursday morning. And newly hired managing editor Eric Celeste delivered a nice zinger in noting that the story's designated medical ethicist, Arthur Caplan of the University of Pennsylvania, was named in a 2000
malpractice suit
.
But before weighing in on Harris' reporting, let's not feel overly sorry for
D
. Most of its bloggers aren't known as fastidious fact-checkers. They regularly traffic in rumor and innuendo before later correcting the record if necessary. Post first and ask questions later, because everything comes out in the wash. OK, fine. But then don't whine too hard when a seasoned TV gunslinger decides to pistol whip you just because he can.
Harris also looked at
Texas Monthly's
"Super Doctors" lists, but no one from that magazine would talk to him.
D
magazine executive editor Tim Rogers agreed to play ball, though, and Harris had little trouble depicting him as a weasel. Selective editing is a TV gumshoe's best friend. And Rogers really didn't have a chance after Harris began by asking rhetorically whether the popular
D
and
Texas Monthly
best doctor issues are "about quality medicine or advertising revenue."
Gee, guess what conclusion he'd be drawing?
In Harris' accusatory words Wednesday night, "Rogers admits that the 'Best Doctors' issue is about making money, from the choice of the subject to who's on the cover."
Harris should know. We're in the heart of a ratings "sweeps" period, where heavily hyped stories are prepared weeks and sometimes months ahead of time in hopes they'll draw extra viewers. That in turn allows a TV station's sales department to adjust advertising rates upwards. So let's get real.
Belo8's Mike Wallace cannily dug several graves for Rogers to lower himself into. Or at least that's what it looked like in the finished product. What would stop doctors in the same practice from voting for one another in
D's
survey, Harris asked.
"In the same practice? Nothing," Rogers said. "Those votes won't count as much as they would if somebody got a vote from outside their practice."
He then nervously sipped from his
D
coffee mug while Harris probed, "How do you weight those?"
"That's proprietary," Rogers said, supplying ample rope for Harris' noose.
The reporter noted that
D's
"blue ribbon" panel can "add doctors at its own discretion." Then he loaded the chamber, telling viewers, "Not even Rogers is certain of all the details."
Harris to Rogers: "By the way, is a podiatrist a doctor?"
Rogers: "That's not one of our categories. I don't think it is."
Harris: "It is."
Rogers: "OK, then they're a doctor."
Harris: "Well, they're not. They don't go to medical school."
Which really has little to do with anything. Still, Rogers was starting to look more uncomfortable than Marvin Hamlisch at a Beastie Boys reunion. And Harris had one more card to play after Rogers told him that
D
didn't particularly care if any of its designated best doctors had a malpractice suit or two filed against them.
Vetting all of those doctors would be a "very daunting" task, which is why
D
doesn't do it, Rogers explained.
But it "really isn't that hard," Harris then said while standing in a county court house. Belo8 back-checked the
D
doctors list in less than eight hours, he said. And it found that 18 percent of them had been "sued for malpractice or related causes in the last 10 years."
As an emergency room orderly for five years, I can tell you that's not even a remotely big deal. Malpractice suits are as commonplace as "Gotcha" stories in TV news. They're often without merit, as Harris well knows. And as noted, the reporter somehow forgot to mention that his story's lone accusatory medical ethicist also has been on the receiving end of a malpractice suit.
Oh well. In the end, both sides probably got what they wanted. Belo8 had D-FW's No. 1-rated newscast Wednesday night, spurred by both Harris' investigation and sports anchor
Dale Hansen's
grossly overblown one-on-one interview with Dallas Cowboys owner Jerry Jones. And
D's
Frontburner blog no doubt had plenty of extra traffic Thursday, courtesy of all those broadsides aimed at Harris.
Earlier on Belo8, the station was less than forthcoming in a brief followup story.
"Hey," said anchor
John McCaa
, "you remember that van that wound up in a Dallas homeowner's living room yesterday afternoon? We've learned the driver lost control after going into diabetic shock."
They must have learned it from rival stations, where that important piece of information was reported the night before. It's called covering your ass.
Over on CBS11, reporter
J.D. Miles
went against the grain with a story on how violent and overall crime dipped significantly in D-FW during an especially cold January.
"The cold keeps people indoors, which causes less interaction and creates fewer opportunities for criminals," Miles said, noting that last January's average temperatures were 13 degrees warmer.
It didn't stop NBC5 from once again loading up on crime stories. But the station first spread it more than a little thick with a "massive recall on peanut butter" bulletin that topped Wednesday night's newscast.
The Peter Pan and Great Value brands are being recalled nationwide after an outbreak of salmonella poisoning, NBC5's
Scott Gordon
said while brandishing two jars outside one of the station's favorite venues, Wal-Mart. The recall is "just a precaution," he added. Also, only jars with the code beginning 2111 are considered suspect.
Belo8 was the only other station to report the peanut butter recall. But it waited until midway through Wednesday's newscast and was far calmer about it.
Fox4's 10 p.m. newscast included yet another
Brandon Todd
dispatch from an
American Idol
watch party. But the station finally may have exhausted its repertoire after both North Texas contestants, Baylie Brown of Krum and Waxahachie's Jimmy McNeal, failed to make
Idol's
final 24 during this week's pre-taped shows.
Todd soldiered on anyway, reporting from an empty bar that earlier had been crowded with McNeal supporters.
"A real classy guy," he said of McNeal, who wasn't there. "He didn't stomp his feet. He didn't go out crying."
Todd then felt the urge to show a "We Love Fox 4!!" sign that just happened to be within easy reach.
OK, enough.
Here's Wednesday night's violent crime story count, with the 10-night running totals in parentheses. (Note: the CBS11 report on a downswing in violent crime is not being counted as a violent crime story.)
NBC5
-- 4 (47)
Fox4
-- 3 (24)
Belo8
-- 2 (16)
CBS11
-- 0 (22)