CBS11 investigative reporter Bennett Cunningham balks at salary cut, abruptly leaves station
12/04/09 03:16 PM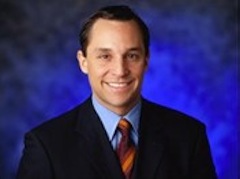 By ED BARK
Facing a salary cut and a shaky local television news landscape, CBS11 investigative reporter Bennett Cunningham on Friday decided to leave the station to pursue a career in law.
News director Scott Diener announced his departure in a staff memo Friday, praising Cunningham as "a big part of our ratings success and growth over the past 12 years."
Cunningham, 41, said he saw a dim future ahead of him at the CBS-owned station after being offered a 10 percent pay cut that would have reduced his annual salary by $17,000. His contract with CBS11 had expired on Thursday.
"This is just not something I'm willing to accept anymore," Cunningham said in a telephone interview with unclebarky.com. "To win all these awards and to be rewarded with no incentive at all was really disappointing. So I put my foot down and said, 'OK, well, today's my last day.' They were surprised but they also understood. The station has been really supportive of me in the past, but this was a corporate decision. I'm sure if they had a satchel of money, they'd give it to me. . . I think they know I deserve it, but they said they don't have the money."
Cunningham said that management belatedly offered to keep him at his same salary, but "for what I bring to the table, I am worth a lot more than that. I wanted a raise, not just my old salary . . . Everybody wants to make a profit. I get that. But I'm not going to shrink my goals because an industry is going to shrink my paycheck."
Cunningham, who passed the bar exam in November 2007, said he plans to practice criminal and media law, initially out of his home.
During his estimable career at CBS11, Cunningham has done numerous reports on questionable spending by public officials. His series of
Dirty Dining
reports also have been staples during ratings "sweeps" months. He recently won a 2009 Regional Murrow Award for an expose on questionable travel expenditures by executives at DFW International Airport. At the Lone Star Emmy Awards earlier this year, Cunningham won three trophies, including his second straight as Best Investigative Reporter.
"I just kind of dilly dallied with it, and wasn't sure what I wanted to do with it," Cunningham said of his law degree. "Basically what I was finding was that I didn't have a lot of growth potential at the station. CBS is really bad at investing in people and helping them grow. So there was nothing else for me to do. I'm basically an investigative reporter with a shrinking salary in a shrinking TV news market . . . The only person I know that got a raise was (CBS11 president and general manager) Steve Mauldin."
CBS11 is coming off its first-ever ratings sweeps victory at 10 p.m. after nipping WFAA8 in the total viewer Nielsen ratings. But the four competing stations -- Fox4, NBC5, WFAA8 and CBS11 -- cumulatively lost 161,856 viewers from a year ago, with WFAA8 down 66,376 and no station making any audience gains.
The same held true among 25-to-54-year-olds, the principal advertiser target audience for news programming. Year-to-year, the four stations were down 91,461 viewers, with WFAA8 running first despite dropping 38,531 viewers in this key demographic.
"Ultimately I wanted this to be my decision before it wasn't my decision," Cunningham said. "I didn't want to go the way of Robert Riggs (who was
downsized by CBS11
in March 2008) and other reporters. I'm getting out at really the top of my game -- the top of the station's game. I wish them luck in the future."
Diener and Mauldin "have been very nice to me," Cunningham said. "But I'm a businessman, too, and this was a bad deal for me."
In his memo to staffers, Diener said, "We very much wanted Bennett to stay on and continue to contribute to our success, but Bennett tells me he wants to take advantage of his law degree . . . As many of you know, Bennett began a new family in the past year -- and this decision allows him to spend more time with them. The neat thing for Bennett is he leaves this profession at the very top of his game. Great journalistic stories. Prestigious awards. And being a key component within a news organization that produces the most-watched newscast in the state of Texas."
Cunningham and his partner, Michael Spann,
made news late last year
as the parents of an infant boy and girl who were born in Hartford, Conn. via gestational surgery. Gregory Adam and Liliana Elizabeth, who at birth had a life-threatening infection of her intestines, are now almost 14 months old and doing fine, Cunningham said.
"I had to be brave about doing this (leaving CBS11)," he said. "I'm not a big risk-taker, but I want my kids to take risks and not be complacent. So I shouldn't be either. I'd regret it if I never did this."
Spann is "100 percent supportive" and had urged him for the past two years to leave the TV news business, Cunningham said. His departure basically leaves CBS11 without an investigative unit. Although still billed as a member of "The Investigators" team, Ginger Allen's main responsibility is anchoring CBS11's early morning newscasts. She also frequently does lifestyles reports on the late night newscasts.
Cunningham joined CBS11 from KTVK-TV in Phoenix. He is a graduate of the University of Michigan.