This just in: a night in the lives of D-FW's late night newscasts (Mon., Feb. 20)
02/21/12 11:28 AM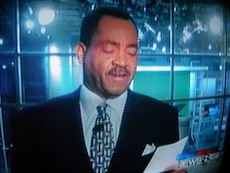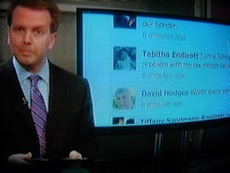 WFAA8 anchor John McCaa took a walk outside to introduce Jason Whitely's "Border Battle" story; Whitely later shared some Facebook comments on what he reported a few minutes earlier. Photos: Ed Bark
By ED BARK
WFAA8's
Jason Whitely
got out and about on a Department of Public Safety chopper during Monday's 10 p.m. newscast for a visually arresting report on drug smuggling along the Rio Grande Valley. You had to be there -- and he was.
John McCaa
got out for a little fresh air to introduce Whitely's story from within easy walking distance of his Victory Park anchor chair. Why? Dunno. Someone must have thought it "opened up" the newscast.
Whitely later presided over Facebook reactions to his story after first soliciting them. Tabitha Endicott and her baby picture were among the respondents making the cut on the monitor behind Whitely.
Cosmetics have always been a part of TV news. Live viewer reaction is a growing part, with local newscasts striving to stem the tide of shrinking audiences by asking you to "like" them on Facebook, kibitz with them on Twitter and lately see your name in print as reporters or anchors scroll through selected comments.
Fox4 anchor
Clarice Tinsley
's new and sometimes ridiculous "Your Turn" segments on 9 p.m. newscasts already have been noted in these spaces. She now has two of them each night, with the station also continuing with its longstanding "Viewers' Voice" feature. That's the one where anchor
Steve Eagar
regularly twits some of the yahoos who take issue with the station's coverage.
On Monday, a respondent said he was sick of all the Whitney Houston stuff. Eagar retorted that the station hadn't mentioned Houston at all on that day's newscasts. So "that's on you," he fired back before asking co-anchor
Heather Hays
, "Was that too harsh?" She said it wasn't.
Your friendly content provider is no longer a Luddite in this respect. You can "like" me or be my "friend" on Facebook. And you can "follow me" on
Twitter
if you want to double your fun. These clearly aren't fads, although they're increasingly ways for media types to get in trouble over what they sometimes impulsively tweet.
Roland Martin is still on suspension from CNN for Twitter comments that were ripped by some as homophobic. The espn.com underling who made the racial reference to New York Knicks star guard Jeremy Lin was fired earlier this week. Some WFAA8 reporters also can be quite opinionated. Award-winning investigator
Brett Shipp
tweeted Sunday, "It used to be that in Dallas, all the drug dealers were down on Lamar. After today's game, the whole city is down on Lamar." He meant the Dallas Mavericks' under-achieving Lamar Odom.
One does wonder, though, whether all of these on-air Facebook gyrations are as much a turn-off as a viewer incentive. In reality, the total sum of comments on any station solicitation is seldom more than a few hundred out of a viewing area of almost 6.8 million. And it's usually far fewer. That's not going to move any ratings needles.
Whitely's Monday story stood quite well under its own power, without McCaa having to journey outside to introduce it or the extra serving of Facebook dessert. WFAA8 also had an interesting lead story Monday night, with
Byron Harris
trying to put a finger on DART's increased police presence -- or lack thereof -- in light of recent fatal shootings.
On Fox4, consumer reporter
Steve Noviello
had an informative piece on discount co-pay cards that can significantly decrease the cost of prescription drugs. And
Saul Garza
did his usual solid job during the weekly
What's Buggin' You?
feature, this time on the dangers to motorists and passers-by from flying golf balls soaring over the protective nets at the Firewheel Golf Park.
Richard Ray
, a longtime Fox4 stalwart, also had a compelling report on a 28-year-old man who's been missing in Mexico for three weeks after journeying there for less expensive dental work. The man's parents understandably fear the worst, and have received no help from federal authorities because there's no evidence that any crime has occurred. (An update posted on myfoxdfw.com Tuesday said that the FBI now has agreed to take a look.)
CBS11's most heavily promoted story, labeled "Modern Day Slavery," found reporter
Jack Fink
interviewing a Nigerian woman who said she had been held captive for nine years after journeying from her homeland to become a North Texas nanny. At one point she also was raped. Viewers were told that Fink had been trying to get the woman to tell her story for the past couple of years.
He asked "Cindy" (a pseudonym) obvious question: Why didn't she just leave? But she said she didn't speak English, had no friends and didn't know where to go for help. She finally mustered the gumption, though.
The couple that hired her are now both doing prison time for their crimes, Fink told viewers at the end of his story. He might have said that earlier in the interests of making Cindy's story believable from the start.
CBS11's
Jay Gormley
earlier reported on a website that trades exclusively in gossip, with comments that are "cruel, hurtful and often malicious." A "vintage pinup model" named Flossie Carmichael said she had been ridiculed on the site after her picture was obtained. Another allegedly wrong woman sobbed while talking to Gormley.
From this perspective, all this story did was drive more traffic to the site and possibly hold the two women up to even more ridicule. Which is why it won't be named here.
NBC5 had a largely nondescript 10 p.m. newscast Friday. Reporter
Scott Gordon
's story on increasing shortages of heavily used prescription drugs was reported in large part last Wednesday by CBS11 investigator
Ginger Allen
.
The station also plugged NBC's hit singing competition,
The Voice
, with a story on the show's previous Houston auditions by reporter
Ellen Goldberg
. It had one intriguing piece of information. Melissa Lawson, the Arlington singer who won NBC's
Nashville Star
in 2008, was rejected for
The Voice
. Goldberg talked to her about this without raising any questions on whether most of the winners of these competitions in reality go on to do much of anything. Quick now, who won the inaugural season of
The Voice
?
That would be Javier Colon, who hasn't exactly set the music world on fire after earlier bombing as a Capitol Records recording artist.