Local Nielsen ratings snapshot (Fri.-Sun., Feb. 10-12) -- Grammys hit some big high notes for CBS
02/13/17 01:27 PM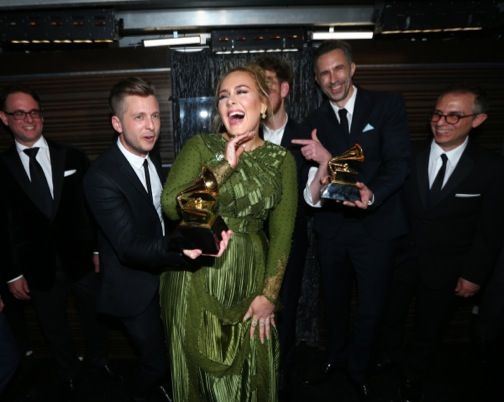 Adele enjoys her "Hello"-fueled Grammys backstage. CBS photo
By ED BARK
@unclebarkycom on Twitter
CBS got a big tune-in for the Grammys Sunday night, with Adele dominating both the major awards and the performance stage.
Her mid-song request for a do-over on a George Michael tribute song helped the show to run 11 minutes past its scheduled 10:30 p.m. finish. But the second time around was much better while her mid-course correction will live on in Grammy lore as a bonafide, heartfelt moment, complete with f-bomb (for which she profusely apologized).
Hosted by first-timer James Corden, the 59th annual Grammys averaged 661,670 D-FW viewers and 288,639 in the advertiser-coveted 18-to-49-year-old demographic. Nothing else came even remotely close. And the numbers were slightly up from last year's awards, which drew 658,663 total viewers and 285,813 in the 18-to-49 age range.
On Saturday, NBC's
Saturday Night Live
, with Alec Baldwin hosting for a record 17th time, led all programming in the day or night with 196,320 total viewers and 96,213 in the 18-to-49 realm. That swamped ABC's marquee prime-time NBA game in which Kevin Durant returned to Oklahoma City for the first time since jumping to the Golden State Warriors. Golden State's rout of the Thunder averaged 109,067 total viewers and 44,899 in the 18-to-49 motherlode.
Friday night's top scorers were CBS'
Blue Bloods
in total viewers (247,217) and CBS'
Hawaii Five-0
among 18-to-49-year-olds (44,899).
Here are Friday's local news derby results for the seventh weekday of the February ratings "sweeps."
TEGNA8 won at 10 p.m. in both total viewers and 25-to-54-year-olds (main advertiser target audience for news programming).
Fox4 and NBC5 tied for the most total viewers at 6 a.m. while the Peacock won outright with 25-to-54-year-olds.
TEGNA8 swept the 6 p.m. competitions. The 5 p.m. golds went to NBC5 in total viewers and CBS11 in the 25-to-54 age range.
Email comments or questions to:
unclebarky@verizon.net