Fox4 reporter Lynn Kawano's crime scoop: what you didn't hear
03/06/13 11:47 AM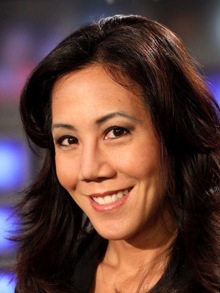 Lynn Kawano
/myfoxdfw.com photo
By ED BARK
@unclebarkycom
Dallas-based Fox4, first TV station to report the arrest of a suspected "serial rapist" during Tuesday's newscasts, may not have been as enterprising as viewers were led to believe.
Veteran reporter Lynn Kawano is married to the Dallas police department detective who wrote and signed the search warrant affidavit in connection with Fernando Munoz, who was jailed over the weekend.
The Dallas Morning News
, in its featured front page Metro section story Wednesday, named Kurt Kresta as the head detective in the case and included quotes from his affidavit. Kresta is married to Kawano, and they had a daughter in March of 2009, according to a birth announcement in
The Shield
, a Dallas Police Association publication.
Kawano, in her
live report on Tuesday's 5 p.m. Fox4 newscast
, displayed the multi-page affidavit and quoted from it without disclosing her husband as the author. "And the officer said he believes Munoz to be a flight risk," she told anchor Clarice Tinsley during the report.
Tinsley, who likewise made no mention of the Kawano-Kresta connection, praised Kawano at the end of the report. "Good coverage, Lynn, on getting that information," Tinsley said. Nightside Fox4 reporter Calvert Collins picked up the story for the station's 9 and 10 p.m. newscasts Tuesday.
Kawano and Fox4 news director Robin Whitmeyer have not returned emails requesting comment on whether the station had an ethical lapse in quoting from the affidavit but not identifying the detective who wrote it as Kawano's husband.
The overall intent here is not to discredit Kawano's abilities as a reporter. The facts of her story seem solid, and later were picked up by other electronic news outlets. But how she got her information merited at least a mention in Fox4's coverage. Instead the station trumpeted its "breaking news" and left viewers none the wiser.
unclebarky@verizon.net