Local Nielsen ratings snapshot (Wed.-Sun., Feb. 22-26) -- Oscars drop again
02/27/17 10:05 AM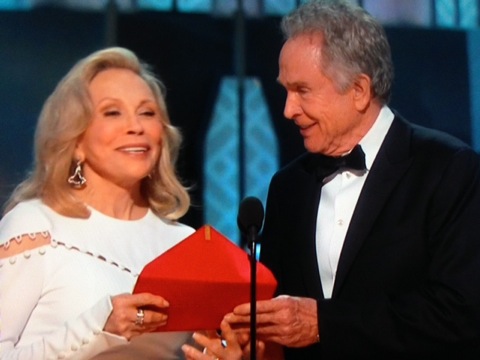 Given the wrong envelope, Faye Dunaway and Warren Beatty combined to announce wrong Best Picture at Sunday night's Oscars.
Photo: Ed Bark
By ED BARK
@unclebarkycom on Twitter
And the winner is . . . well, it wasn't
Bonnie and Clyde
.
Nor was it the Oscar-cast as a whole, at least in the D-FW ratings. Sunday night's 3 hour, 45 minute ceremony, hosted by Jimmy Kimmel and ending in embarrassment, averaged 763,466 total viewers and 339,953 in the advertiser-prized 18-to-49-year-old demographic.
That's a significant drop-off in total viewers from the 2016 ceremony hosted by Chris Rock. It drew 878,218 viewers, which was down pretty sharply from the 1,004,256 for the 2015 Oscars hosted by Neil Patrick Harris. The fall-off wasn't as steep among 18-to-49-year-olds. The Rock-hosted Oscars had 346,151 viewers in this key demographic while Harris and the 2015 show drew 428,197 viewers in the 18-to-49 realm.
The gaffe seen and heard 'round the world came in the closing 15-minute segment, from 11 to 11:15 p.m. That's when Warren Beatty and Faye Dunaway announced that
La La Land
was the year's Best Picture. The "winners" were well into their acceptance remarks before being notified that
Moonlight
in fact was the night's climactic choice. PriceWaterhouseCoopers, longtime guardian of the winning envelopes, later apologized for the presenters being "given the wrong category envelope" and said it is "currently investigating how this could have happened."
The screwup came with many potential D-FW viewers either in bed, asleep or tired of the whole thing. Oscar's closing 15-minute segment was the least-watched of the night, with 625,315 total viewers and 282,225 in the 18-to-49 age range.
The Oscars still smashed all competing programming. Fox4's 9 p.m. local newscast fared the best in direct competition, drawing 130,880 total viewers.
In Friday's prime-time Nielsens, CBS' 8 p.m. episode of
Hawaii Five-0
topped all programming in total viewers with 254,489 while ABC's competing hour of
Shark Tank
was tops with 18-to-40-year-olds (38,485).
On Thursday, CBS'
The Big Bang Theory
as usual led all prime-time attractions in both ratings ratings measurements with respective totals of 349,013 and 131,491 viewers.
Wednesday night's top performers were Fox's
Lethal Weapon
in total viewers (254,489) and ABC's
Modern Family
with 18-to-49-year-olds (99,420).
CBS has pulled
Doubt
from its Wednesday night lineup after airing just two episodes in the 9 p.m. hour. And on Thursday, the death of Bill Paxton apparently will mean the end of
Training Day
, in which he co-starred. The series had been performing poorly ratings-wise at 9 p.m.
Here are the Wednesday-Friday local news derby results, with just three weekdays now remaining in the February "sweeps" ratings period.
Wednesday
-- TEGNA8 won in total viewers at 10 p.m. while Fox4 had the most 25-to-54-year-olds (main advertiser target audience for news programming).
Fox4 swept the 6 a.m. competitions and NBC5 did likewise at both 5 and 6 p.m.
Thursday
-- TEGNA8 again drew the most total viewers at 10 p.m., but NBC5 ran first with 25-to-54-year-olds.
Fox4 had twin wins at 6 a.m. and NBC5 won at 5 and 6 p.m. in the 25-to-54 measurement. Fox4 and TEGNA8 tied for the most total viewers at 5 p.m., and TEGNA8 had first place to itself at 6 p.m.
Friday
-- CBS11 broke through with a 10 p.m. win in total viewers, but NBC5 was tops with 25-to-54-year-olds.
Fox4 stayed strong at 6 a.m. with another sweep and also ran the table at 5 p.m. NBC5 and TEGNA8 shared the total viewer spoils at 6 p.m. while the Peacock took the sole gold among 25-to-54-year-olds.
Email comments or questions to:
unclebarky@verizon.net