New lows (ratings-wise) for Real Housewives of Dallas
05/10/16 04:23 PM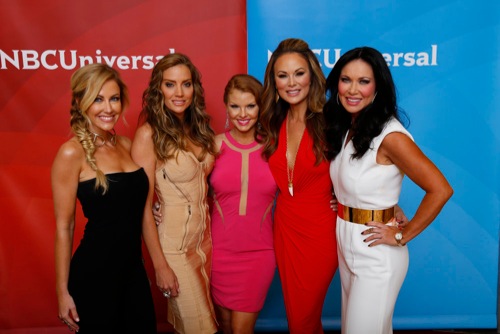 The fussin' & feudin' stars of Real Housewives of Dallas. Bravo photo
By ED BARK
@unclebarkycom on Twitter
Monday's Episode 5 of Bravo's
Real Housewives of Dallas
hit new bottoms in both total viewers and its ranking among that night's top 100 cable programs.
The 789,000 viewers nationally were a dip from the 828,000 who succumbed to Episode 3 before the fourth hour moved up slightly to 838,000 viewers. Monday night's latest ratings shortfall dropped
RHOD
to 89th place in total viewers among the 100 programs charted by
tvbythenumbers
. The show retained a puny .3 rating in the advertiser-prized 18-to-49-year-old demographic.
Bravo's Monday night lead-in for
RHOD
, another 8 p.m. episode of
Southern Charm
, had 1,004,000 viewers and a .4 rating in the 18-to-49 age range.
RHOD
then lost 214,000 total viewers while also continuing to run well behind the latest episodes of Bravo's two other currently airing
Housewives
franchises.
The Tuesday, May 3rd hour of
Real Housewives of Beverly Hills
drew 1,677,000 viewers and a .6 in the 18-to-49 demographic. A late night rerun of that episode had 787,000 viewers to almost equal Monday's new hour of
RHOD
. Not a good sign.
Last Wednesday's
Real Housewives of New York City
had 1,323,000 viewers and a .5 among 18-to-49-year-olds.
On the latest
RHOD
, high-strung LeeAnne Locken went super-ballistic on longtime friend Tiffany Hendra -- and vice-versa. They later made up while weepy, "Jesus Juice"-drinkin' Brandi Redmond found herself increasingly distanced from travelin' man husband, Bryan.
Brandi also got to meet her grandfather, supposedly for the first time, during a gathering at the posh Redmond house. The old galoot, a former NFL player, seemed nice enough. But he and his hobbled wife were left to fend for themselves, arriving at the doorstep on their own after a drive or flight from somewhere. Guess it made for better teevee -- but not from a believability standpoint.
This also was an hour of conspicuous consumption, with Stephanie Holman getting a gaudy $75,000 anniversary bracelet from her husband, who took her to snooty de Boulle. Hubby, for his part, has a new gold Rolls Royce. Meanwhile, piece-of-work poser Cary Deuber had to make do with what looked like a pricey dress from her rather kinky plastic surgeon husband, whom she still dubs "my wife." It was a replacement for the cocktail dress that LeeAnne soiled with champagne during last week's tantrum. More than likely, all of these gifts were rentals for the purposes of the "real-life" storylines in play. Oh yeah. Cary also gave "my wife" a Botox shot to his forehead so he wouldn't appear to be angry.
Teases for next week's episode promise a further falling out between Brandi and Bryan. Whether the ratings also continue to drop remains to be seen. But it's tough to hit new weekly rock bottoms when your numbers already are getting lower than even LeeAnne's tolerance for impropriety.
Email comments or questions to:
unclebarky@verizon.net