Dream on: CBS11 TV reporter and partner reboot to shoot another film
03/08/07 01:48 PM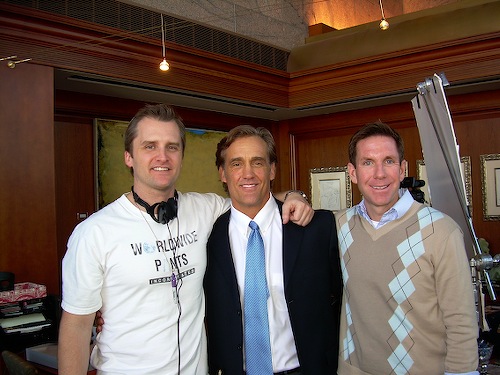 Director John Venable, co-star John Wesley Shipp and assistant director Jay Gormley on the set of Karma Police. Photo: Ed Bark
By ED BARK
Dormant for a while, their dream is back in Technicolor.
CBS11 reporter Jay Gormley and his filmmaking partner, John Venable, thought they were on a fast track two years ago with their comedy feature film
$30,000 Millionaires
. Interest was high and a proposed $1 million budget looked to be in the bag after the two presented the world premiere of their 11-minute film
Bachelor 37
to an enthusiastic audience at the Magnolia Theatre.
"It's a great feeling when you stand up there and people applaud and appreciate your work," Gormley said at the time. "It's something you don't get in news."
The darkly comic
Bachelor 37
, directed by Gormley and starring Venable, built to a very clever twist of an ending and a short trailer for
$30,000 Millionaires
. "Coming soon," it said. "Soon as we have the money to film it."
They still don't.
"We were told that money would fall from the skies. It did not," says Venable. "We got a lot of lip service."
"We got a
ton
of lip service," adds Gormley.
Not that they're deterred. Venable and Gormley picked themselves up, scaled their operating costs way down and now are filming the crime drama
Karma Police
in Dallas for a small fraction of the $1 million they still hope to raise for
$30,000 Millionaires
.
The 105-minute film, tentatively scheduled to wrap on March 18, is pretty much Venable's baby. He wrote the screenplay and is directing
Karma Police
with help from Gormley. The two would switch positions on
$30,000 Millionaires
, with Gormley the head overseer on a film he co-wrote with Venable after they founded
Parkview Place Pictures
in 2002.
Venable "got me off my butt," Gormley says. "I was all depressed.
30K
wasn't happening. What happened to all the hits on our web site and the interest in Hollywood (including from Fox TV's comedy development division)? I'm like all down in the dumps and John's like, 'Dude, let's go. Let's do something while we wait for
30K
.' I said, 'No, no, let's wait.' And finally he just kind of put a foot up my butt. And that's how I got fired up for this."
They're on a brisk 17-day shooting schedule, with the cameras only rolling on weekends. On a recent Saturday afternoon,
Karma Police
is filming in a posh law firm office on the 50th floor of the Chase Bank building in downtown Dallas.
Co-star John Wesley Shipp, best known of late for playing Dawson Leery's dad, Mitch, on
Dawson's Creek
, is navigating a multi-take kissing scene with local actress Jessica Turner, whose time is limited. She soon must rush off to a matinee performance of
Moonlight and Magnolias
at the Dallas Theater Center.
Timing is everything in this scene, too.
"You better be home on time," Turner tells Shipp. "The kids are only gone for one night and I'll be home by myself."
"I'll be there, baby," he assures her. Smooch, smooch.
Gormley and Venable fret a bit about getting a half-dozen takes completed in time. But it's otherwise a relaxed set, with Gormley telling Shipp at one point, "John, we didn't tell you it was a porno? Sorry."
Shipp, who also had the title role in the 1990 CBS series
The Flash
, hooked up with
Karma Police
while attending a comic book convention in Dallas. He has a supporting role as a publishing company CEO who runs afoul of the "world's largest secret organization," a k a the Karma Police.
"They reward and punish people after tracking their good and bad conduct," Venable says. "But there's a little more to the Karma Police than meets the eye. That's about all we can say."
The movie's principal star is veteran Dallas stage actor Chamblee Ferguson, who also has played small parts in several feature films (
The Newton Boys, A Scanner Darkly
) and locally filmed TV series such as
Prison Break
and
Walker, Texas Ranger
. Ferguson, who isn't working on this day, plays "average guy" administrator Charles West, brother-in-law of Shipp's character.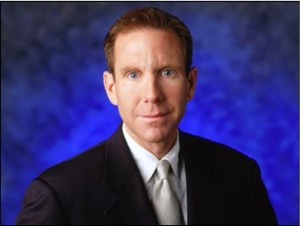 Gormley in his CBS11 pose and Karma Police star Ferguson.
Venable and Gormley plan to have
Karma Police
ready for public showing by early June. They hope to have it accepted by the Toronto Film Festival. If not, the Sundance Film Festival beckons. And then Austin's South by Southwest event.
"This is not a means to an end," Venable says. "
Karma Police
isn't just a stepping stone to get to our other projects."
They've partnered with two North Texas companies, Red Productions and Filmfrog Productions. It all helps to keep costs down and at least a small profit in the picture.
"If we make money, that bodes well for us," Gormley says. "Your first piece on your track record, you don't want to lose money."
He says that Hollywood is starting to nibble again on
$30,000 Millionaires
, with a "major Hollywood movie studio" supposedly taking a hard look at this comedy film about "five vacuous Dallas bachelors striving to maintain upscale lifestyles via maxed-out credit cards."
"I'm learning quickly that it's going to take longer than I anticipated," Gormley says. "We've had a number of setbacks and it's not gonna happen overnight."
Venable is quick to accentuate the positive.
"I wouldn't really call them setbacks," he says. "It's just the normal MO for Hollywood. I don't think what we're going through is any different than what several filmmakers out there go through every day. We get more disappointed because we've got just these few projects that we're working on, and we're banking on being able to make them. So whenever somebody gets our hopes up and dashes them, it's a little more disappointing."
Meanwhile, Gormley will continue to be a CBS11 street reporter whose work is a staple of the station's 10 p.m. newscasts. There he was again on Wednesday night (March 7), leading the newscast with a story about a Dallas woman who was attacked in broad daylight by brick- and rocking-throwing teenagers who bombarded her SUV.
"I'm not going to let this jeopardize my career with the station," he said two years ago while still basking in the afterglow of that Magnolia Theater screening. "But I think there's going to be a point where I'll have to decide if I can balance both. That's a choice I'd like to have."
Freeze-frame that quote. For now it still holds.