Local Nielsen ratings snapshot (Fri.-Sun., Oct. 31-Nov. 2)
11/03/08 09:39 AM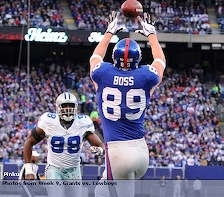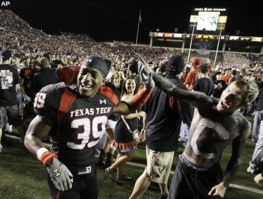 By ED BARK
Two giant-sized football games -- pun sort of intended -- dominated D-FW's weekend TV landscape.
Stripped of any and all super powers, the pea-shooting Dallas Cowboys were obliterated 35-14 Sunday afternoon on Fox by the swaggering New York Giants.
And on the night before in Lubbock, a near-miracle, last-second touchdown pass gave Texas Tech a wild 'n' crazy 39-33 win over previously No. 1 Texas on ABC's nationally telecast college game of the week. The Red Raiders remain unbeaten and now are the No. 2 college football team in the country while the previously unbeaten Longhorns slipped three rungs to No. 4.
The Cowboys are just plain rank.
OK, let's look at the numbers from the cheap seats. (Remember, we're now counting total viewers in addition to total homes. For a complete explanation, click on the October archives or
here
.)
Sunday's Cowboys-Giants mismatch, which began at 3:15 p.m. and mercifully ended three hours later, averaged 1.03 million total viewers and 697,200 homes in D-FW.
Those numbers both peaked between 4:30 and 4:45 p.m., with 1,209,000 viewers and 796,800 homes.
Saturday night's Tech-Texas game, which stretched from 7 to nearly 11 p.m., hauled in an overall average of 719,105 viewers and 430,770 total homes.
Nothing else really mattered over the weekend -- ratings-wise at least -- save for Friday's local newscast derby on Day 2 of the November "sweeps."
At 10 p.m., CBS11 took the top spot in both total viewers and total homes, with WFAA8 a very unaccustomed second in those measurements. WFAA8 settled for a single win among 25-to-54-year-olds, the main advertiser target audience for news programming.
Fox4 comfortably won the 6 a.m. ratings battle in all three measurements, with NBC5 second and WFAA8 a distant third.
The three 6 p.m. golds as usual went to WFAA8, but the wealth was spread at 5 p.m.
WFAA8 and NBC5 tied at the earlier hour in total viewers. The Peacock took first in total homes, with WFAA8 tops among 25-to-54-year-olds.